News from the Garden Trade . . .

The following items are from the files of Commercial Horticulture Magazine.
They are extracts only – why not become a regular subscriber and get THE FULL STORY?
---
From Commercial Horticulture Magazine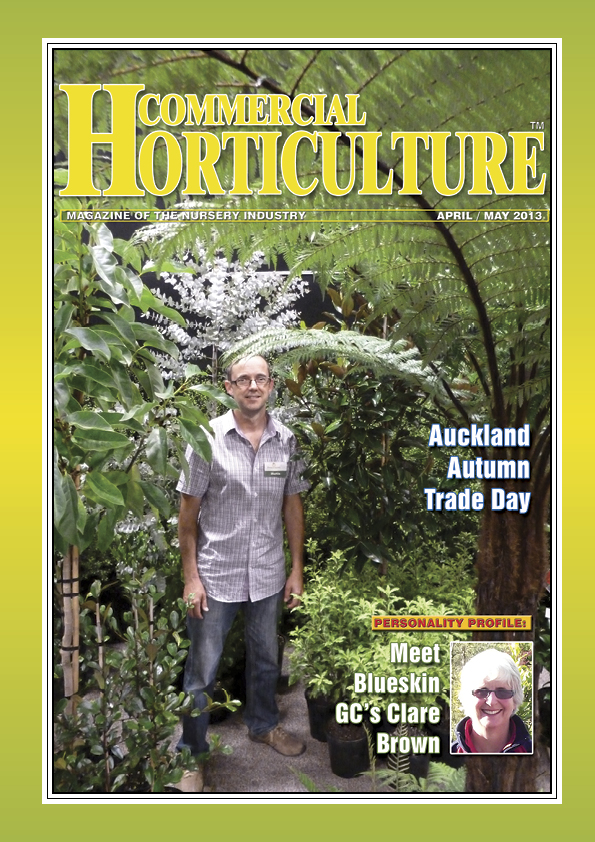 April / May 2013 issue
New venue brings upmarket look to Auckland Trade Day
Auckland Autumn Trade Day was held Wednesday 20 March at its new venue, the Life Convention Centre, 110 Montgomerie Rd, Mangere. The show looked great in the new venue and many of the displays were outstanding. The high black ceiling, black drapes around the walls, polished concrete floors and all the stands with black wall panelling, lifted the Show to a new level of presentation and professionalism.
There's a full report in Comm Hort April/May issue or see the Trade Days options in the panel at left.
Dry Summer a record-setter
Summer 2012-13 was one of the driest on record for northern NZ. According to NIWA, many regions received only half their normal rainfall while areas north of Auckland, the Bay of Plenty, Taupo, areas of the Hawkes Bay and Wairarapa, received only about one third of normal. Numerous sunshine records were also broken.
Comm Hort's Kerry Johnstone rang around in early April to see what effect the big dry had had on nurseries and garden centres. Surprisingly perhaps, he found most to be in good heart.
XX Garry Stone, gm of Palmers Franchise Systems, said over Summer customers had been "less than enthusiastic about spending large amounts on their gardens especially in the lower North Island where total hosing bans are in place. People are more canny now on what they do spend their money on in the present economic climate. However, every time we get a slight reprieve with a bit of rain, sales jump up so it tells us that people are ready to go. They just want more rain."
XX "All our customers are coming in and say they're putting off, putting off," said Chris Hall, general manager of the Kings Plant Barn chain in Auckland. However, he added, "At Easter they did buy a bit more with the sales but they're really waiting until the rains come and the ground softens up so they can get their spades in. "Bedding and vegetable plants have been ok. It's the foundation plants such as shrubs and hedging that people are holding off from buying."
XX "It's really dry around here and certainly has impacted on gardening," said Dave Clark of Decor Greenworld in Bethlehem near Tauranga. "We've been selling but gardeners are holding off on their shrub planting. The rain we had a week ago (late March) brought people in to buy vegetable seedlings and bedding plants such as broccoli and pansies. So there has been a noticeable uplift in these."
XX "It's been a pretty tough time and it's all weather related," said Gus Evans of Gus Evans Nursery in Waikanae. "The reason is that the days in January and February particularly were just too intensely hot. People would come in and say their car temperature gauge said 32 degrees. This went on for days and working in it pretty well jiggered you out by the end of the day." And the word 'drought' instils a lot of caution among gardeners, Gus reckons. "It's worse for Wellington because they're on a strict watering regime. And now in Kapiti they're putting in water meters so people are getting edgy about the increase in costs. It will make a difference. People eventually accept it but for a couple of years they may think twice about buying plants.
And Gus reports that the annual Lions' Plant Bonanza sales were 70 percent down on previous years, which indicates how strongly gardeners are thinking.
XX The long hot dry Summer has been a boon for Richard Ware of Plant Production in Napier. "Almost every day is fine and dry with a good cooling sea breeze coming in from nor-east and what plants need is full light and good temperatures so it's been the best propagating season we've had for years. We're pretty excited here and we've had a good ripening of our cuttings. Put them in and they just grow. We've had almost a 100 percent strike with our hard plants like daphne and michelia. We've had no dull days where you can put too much mist or fog on them. "We have huge underground reservoirs and all our wells are holding up even though we're sucking down a bit."
Richard is looking for the rain and a good year. "Hopefully next Summer will be back on balance between the wet Summer of 2011-2012 and this very dry one. However, he believes the long dry Summer may prove quite good for the nursery industry because there will be quite a few plant losses around the country which will need replacing.
XX "It's a quiet time of year but this dry spell has gone on for a long time without reprieve," said Lindsey Hatch of Joy Plants, Pukekohe. "This would be the second drought and the worst since we've been on this property. We've only had 26mls since January." The nursery has a 7 metre deep bore which is running more slowly and also a spring which for the first time in 24 years has ceased flowing, showing how low the water table has dropped.
"However, we find that it's good to water plants less often anyway. They survive better and don't need as much water as some nurseries give them. Over-watered plants are too soft and when planted now can find it too dry and die. Let them flag a little then water in the evening."We're watering 12 hours a day in the evening or morning, and only water in shady areas during the day."
If drought conditions were repeated next season, Lindsey says the nursery would find things quite difficult.
XX Greg Diack of Diacks Tweed St branch in Invercargill, reports that despite the region's drier and warmer Summer, gardening continued to "tick along pretty good. It was a little dry for a while and there is still a water ban but rain last month has greened things up a little. It didn't really slow down too much for us."
However, Greg comments that Diacks are looking ahead and installing water tanks at the Lorneville branch to supplement their bore water and they will also put tanks in at Tweed Street. "People are also becoming more interested in the weather," says Greg who is seizing the opportunity by stocking 'weather stations.' They have improved a lot, he says, and are reasonably affordable. "Hooked up to a computer, the top ones can display wind speed, track high and low temperatures, air pressure, predict rain etc."
Veitch Medal for Keith Hammett
NZ plant breeder Dr Keith Hammett has been awarded the Veitch Memorial Medal by the Royal Horticultural Society. The Medal is a prestigious international prize issued annually by the Society to "persons of any nationality who have made an outstanding contribution to the advancement and improvement of the science and practice of horticulture."
IGCA Congress Registrations open
Registrations have opened for the International Garden Centre Association Congress this year in Melbourne, October 6-11. For more details visit www.igccaustralia2013.com or contact Leigh Siebler on 0061 3 9889 545.
Garden centre fire highlights the need for good insurance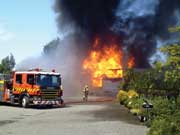 On 3 February a fire at Masterton garden centre, the GardenBarn, destroyed around quarter of a million dollars' worth of buildings and equipment in its work shed.
Owner Laurie Hatchard says they lost a forklift, a tractor and one of their worker's cars, as well as all of their tools, computer equipment and business records in the blaze, which fire inspectors believe may have started with someone being a bit careless with a cigarette butt.
Laurie has been left re-evaluating his thinking on insurance. "You always tend to try and trim the budget on insurance policies and premiums. That shed cost us $45,000 and we had insurance for $60,000, but a new shed's going to cost us $120,000. The thing I've learned out of all of this is to insure for replacement value."
Landscapes of Distinction Awards
Landscaping New Zealand will be running its Landscapes of Distinction Awards competition again this year. LNZ members will be invited to submit entries in Spring. The awards, which recognise excellence in various categories of landscaping, are held every two years. Judging for this year's entries will take place next March with the winners announced during the 2014 LNZ conference.
Landscaper of the year
Applications are open for entries to this year's City Parks Services Young Landscaper of the Year competition. Close off date is 10 May. Applications are available on the LIANZ website, www.lianz.org.nz, or contact Neven Millar on 0274 755-955.
Slow recovery: the long road back for Shaw Nurseries
Taranaki company Shaw's Nurseries Ltd, went into liquidation in May 2011, but as it happens, didn't actually close. The Waitara nursery had been a contract grower for Duncan and Davies, a supplier to the domestic market and an exporter. But when their bank refused to underwrite the nursery any further, liquidation saw many of the nursery's creditors go unpaid and a number in the industry assumed the business had closed.

Not so, says Maurice Shaw. "We never really folded. Basically what happened was a very nice neighbour completely bought us out; that's how we got through it, and the bank was happy with that." He says they were in fact up and running again by the end of 2011. But it has been, and still is, a struggle.
Maurice says, personally, he has been left with nothing. "I don't own a bean. But the nursery is still going. We're working on a very, very tight budget I know that. If we haven't got it in the bank we're not allowed to spend it. We've got a business plan in place and we stick very stringently to it." Many of the business' former creditors are now back on board, with the exception of one. "And he was my most important one. Under liquidation you can't resolve things yourself; you just have to wear it on the chin. That's his decision. At the end of the day I've got to keep moving on."
There's more on the Shaw's comeback and experiences in our Comm Hort report in April/May issue.
Peter Brass of Evandale calls it a day
"After thirty exciting years of running Evandale Gardens it is time to pass the responsibility on to my successor Nathan Piggott as the new General Manager effective from the start of April." So said Peter Brass in a letter distributed in early April announcing his 'semi-retirement.' While he would miss the people in the industry and the nursery, said Peter, he would now be free to develop his property at Cherry Tree Farm in Cromwell. He would also stay on as a consultant to Evandale for the next few years.
New owner brings a nursery background to Touchwood
Liz Legge of Levin is the new owner of Touchwood Books which was started by Peter Arthur, a Hawke's Bay sheep and beef farmer with a keen interest in trees, in October 1987. Liz and her husband, Martin, ran Omahanui Nursery and Garden Centre in Levin for six years. By taking over Touchwood Books Liz says she is delighted to be able to combine her love of horticulture and farming with her passion for books and experience with IT and marketing. She hopes she can still find time for her own one and half acre garden. The couple have two daughters, one studying medicine at Otago and one embarking on a career with the publishing industry in Germany.
Elliott's Nursery opening to the public three days a week
Since the beginning of March, Elliott's Wholesale Nursery in Amberley, north of Christchurch, has been opening to the public on Fridays, Saturdays and Sundays. Owner Jeff Elliott says the decision to offer retail reflects the changing nature of the market. "Garden centres have all but disappeared. I think there's only about three left in the South Island that are legitimate garden centres, and they have cafeterias attached to them as well. So garden centres have gone. The chains are there, demanding high standards. The only ones that compete with the chains are the grower retailers.
Jeff says probably around 20 percent of what Elliotts currently produce is contract grown. Another 30-40 percent might be ordered in advance, but the rest is speculative, and he believes growing on spec very soon puts a nursery in the position of being a price taker rather than a price maker. To even the odds a little, Elliotts have decided to add retail into their mix. In addition to their usual offering, Elliotts will look to grow a small range exclusively for their own retail customers.
New owners for River of Life Garden Centre
The River of Life Garden Centre in Taipa, in the Far North, has new owners. Cheryl and Peter Van der Linden took over on 1 February. Cheryl says the garden centre draws customers from Hokianga and Kerikeri to the south, through Kaitaia and all the outlying rural areas. The couple have lived in the area for about 5½ years. Prior to that they owned a mechanical workshop in Henderson for 10 years.
River of Life Garden Centre was previously owned and operated by Stephen and Sue Major who have now moved to Whangarei to open a speciality store, Pots Plus.
Second time lucky for buyers of Golden Bay Garden Centre
from Golden Bay Garden Centre in Takaka has new owners. Tony and Janet Rusbatch took over Dave and Chrissie Alexander last November after already trying to buy it once before.
Tony and Janet moved to Golden Bay six years ago from Waimate, South Canterbury. Tony has been around horticulture most of his working life and managed a garden centre in South Australia for a time. The couple tried to buy the garden centre from an earlier owner, Faye Brownlee, soon after they moved to Takaka but missed out, so they purchased the Top Shop Dairy instead.
Anger, disappointment at Kapiti closure
Brian and Heather Riddell own and hold the franchise for Palmers Gardenworld Kapiti. The garden centre is part of the Coastlands shopping complex in Paraparaumu and was formerly Pritchards Greenworld. But the store was forced to close at the end of April, the lease having expired with no right of renewal.
"We've been here seven years," Brian says, "three years as Palmers and four as Pritchards, and we've thoroughly enjoyed it. We've got some very angry and disappointed customers." He and Heather have been overwhelmed by the response to the news from their regulars who Brian says have made it plain they just don't want the couple or the store to go. But all the helpful suggestions on offer haven't come up with a financially viable alternative site.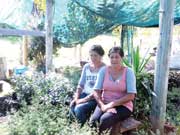 Sisters set up plant nursery Te Kaha
Carolyn and Bronwyn Insley have set up a native plant nursery, called Hou-Tai Nursery, in Te Kaha, about 70km north of Opotiki, after having been growing kiwifruit for a local packhouse. The nursery will be specialising in native locally-sourced seedlings for restoration projects.
Insights from the USA from Conference keynote speaker
Chris Beytes, editor and publisher of US horticulture industry flagship magazines GrowerTalks and Green Profit, has been confirmed as one of the keynote speakers at this year's NGINZ conference in Queenstown. Chris is also associated with Ball Pulblishing's email titles: Acres Online, Green Talks and Buzz (for garden retail), Inside Grower and Landscape Insider.
Chris will speak on Urban Lifestyles and Liveable Cities - factors of major influence in the northern hemisphere and heading our way. He will also present on the advantages of and opportunities that await New Zealander's travelling to Europe and USA to see what makes their industry tick.
Check www.nginz.co.nz for full conference details and registration. The conference is open to both members and non-members of the NGINZ.
Insect mesh a possibility to control potato/tomato psyllid
A field day to demonstrate to farmers and commercial growers the use of insect mesh crop covers as a means of combating the tomato/potato psyllid (TPP) was held at Lincoln University in March. The mesh may also have application for home gardeners and garden centres. Comm Hort Magazine has reported several times on the psyllid, a relatively recent but potentially major pest in New Zealand.
The Future Farming Centre, based at Lincoln University, is in its second year of field testing insect mesh crop covers. The first year's results were very encouraging with good TPP control and also a surprise dramatic reduction in potato blight / end of season fungal infections.
Multi-agency effort to contain Great White butterfly threat
Gardeners in Nelson and Tasman have been urged to be on the alert for what looks like a super-sized version of the cabbage or white butterfly. Known in NZ as the Great White butterfly (GWB), the pest was first identified in Nelson in 2010. A multi-agency attempt is being made to eradicate the butterfly. This involves physical removal of caterpillars and eggs, and applying an organic insecticide to host plants.
The Department of Conservation is leading the eradication attempt in conjunction with Vegetables NZ, the Ministry for Primary Industries, Tasman District Council and Nelson City Council. DOC has decided to attempt to eradicate GWB, with the other agencies' support, because it could have serious consequences for the survival of many native cress species.
"In attempting to eradicate GWB from Nelson, we are attempting to eradicate it from New Zealand and stop it becoming established as a major pest in this country. The species can fly long distances, sometimes hundreds of kilometres, so it would eventually spread throughout New Zealand if left unchecked, said DOC."

Feature Articles in Commercial Horticulture Magazine, April/May issue 2013:
Fledging design business scoops up the Supreme Awards at Ellerslie
For young Christchurch designers Rebecca Hammond and Grant Stephens of H&S Landscape Design, it was eight months from concept, construction and completion to success with their Revolutionising Reuse Garden scooping both the Supreme Judges Award and the Supreme Award for Design Excellence at the 2013 Ellerslie International Flower Show.
Comm Hort goes behind the scenes to trace the development of this project by Rebecca and Grant, who are Masters' graduates from Lincoln University School of Landscape Architecture and started out in their own design business only about nine months ago.
Pohutukawa: a celebration of New Zealand's flowering treasure
Graeme Platt of the NZ Botanical Research Institute, has spent the better part of a lifetime searching out elite forms of New Zealand's iconic pohutukawa. This is Part 2 of a photo ess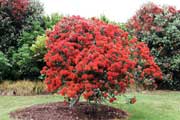 ay in which he shares his insights. Shown here is Metrosideros excelsa var. "Titirangi" with its very large bright red flowers. This variety has proven to perform spectacularly under conditions of cultivation over many years, says Graeme.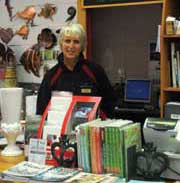 Personality Profile – Clare Brown
Excelling in science and mathematics at school, then going on to graduate Bachelor of Science with Honours in Chemistry, Clare Thomson looked set to carve out a career as an industrial chemist. Then she met a local gardener called Mark Brown and suddenly was on the road to horticulture. That road has led her to opening and running the Blueskin Garden Centre and Cafe at Waitati. Mark runs the adjacent Blueskin Wholesale Trees and Plants Nursery, while Clare and daughter Sally run the garden centre. Kerry Johnstone finds out what makes Clare tick in his interview in this Comm Hort interview.
A little amputation here and there
Botanist Fiona Eadie continues her series on the art of pruning.
The Jelitto story - hard work, relationships and a little luck
The Jelitto Seed Company of Germany opened a brand new website, www.jelitto.com, in March and it is well worth a look. The internationally-known company was formed back in 1957 and offers an extensive selection of around 3700 species and varieties of perennials and other plants. Comm Hort traces the history of this iconic company from its humble beginnings when founder Klaus R. Jelitto operated out of the back of an old VW.
From Commercial Horticulture Magazine
February / March 2013 issue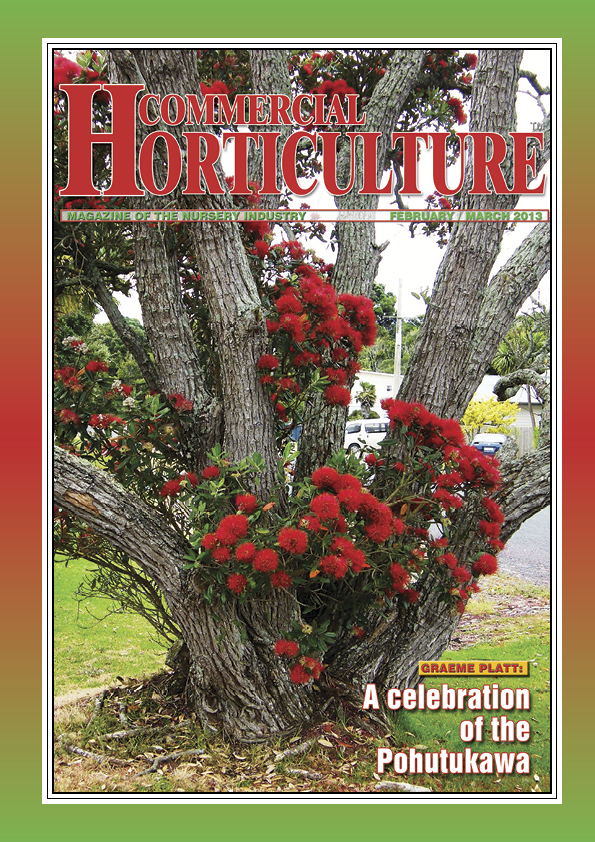 Steady start to the New Year helped by great weather
General feedback from around the trade suggests a reasonably positive start to 2013, helped by a great spell of Summer weather that settled over most of the country for several weeks from Christmas and kept the gardeners gardening.
Tornado rampages through Auckland nurseries
The short but deadly tornado that struck suddenly just after midday on 6 December tore through at least four plant nurseries in Auckland's western suburbs of Hobsonville and Whenuapai. Liner Plants, Hortex Trees, Western Nurseries, and Scott Base Nurseries all suffered property damage but staff and in most cases, plants, came through unscathed. A mini tornado also hit Southern Woods Nursery, Christchurch, on 11 January but with minimal damage and a scrub fire at Prebbleton, on the outskirts of Christchurch, swept through Ambrosia Nurseries, wiping out some shelter belts, buildings, and 10 per cent of the plants.
Second success for Vance Hooper at Essen
Vance Hooper of Magnolia Grove in Taranaki took the Best New Tree award at the big IPM show in Essen, Germany, in January with his Magnolia Cleopatra. This makes it a double for Vance following the success of his Magnolia Genie in 2011. Launched in New Zealand in 2009, Cleopatra comes from Magnolia x soulangiana Sweet Simplicity and Magnolia Black Tulip.
Robex transport company closes
Nursery freight company, Robex NZ Ltd, has closed down. Miriam and Peter Gratton sent out an email announcing this in early February. "It is with great regret that Peter and I have to advise you that we are retiring, effective immediately. Both trucks to be sold. This has come about due to the fact that our main cash customer of 17 years has drastically changed their methods of operation. And we can no longer keep going."
Richmond garden centre pulls the pin after 37 years
Bay Nurseries Garden Centre in Richmond, Nelson, established 37 years ago by the Thorn family and owned for the last five and half years by John de Jong, closed its doors at the end of January. The garden centre grew many of its own perennials, annuals and vegetable plants and had built a strong reputation for these as well as a range of trees and shrubs including fruit trees. John says the decision to pull the pin was very hard, especially because of its effect on his 10 staff and the long history of the business but in the end it was a practical necessity. Among various reasons, John puts the main factor down to the last two extremely wet Springs. "Strong Spring trading sets you up for the year. We had 11 wet weekends in a row last Spring. The outdoor area is not fully covered and when it's wet you hardly trade at all."
Registrations open for IPPSconference 2013
Registrations are now open for this year's IPPS Conference to be held in Taupo 25-28 April. With a theme appropriate to the area – "Erupting into the Future" -- the conference will look at some innovative new ways of propagation, trends in propagation and plant production practice. A series of pre-conference day trips will show off some of the Central North Island's attractions. Visit www.ipps.org.nz for details.
Leafland buys Sunshine Trees
Sunshine Trees in Palmerston North has been taken over by Ben Currie of Leafland, directly across the road. Ben says this will broaden the specimen trees on offer at Leafland to include a full selection of NZ natives, olives, and evergreen magnolias in addition to their existing range of exotics.
John Tabak, Plants for Places
John Tabak, of Plants for Places Nursery, Whenuapai, passed away suddenly on 21 November, aged 57. John and Christine set up the nursery in 1985. It specialises in Ficus tuffi and hilli, standards and topiaries.
Industry meeting with MPI
Members of the NGINZ Board met with Andrew Coleman and Dean Baigent of the Ministry for Primary Industries' just prior to Christmas. The MPI raided homes and the Auckland Botanic Gardens in October in search of illegal material. This was reported at length in Comm Hort Dec 12 issue. "While they were not prepared to discuss the specifics of the Agathis case that precipitated our meeting and much industry concern, they committed to brief us on the outcome of their investigation," says NGINZ ceo John Liddle. There was also agreement that "we will jointly work with the EPA on ensuring the Plants Biosecurity Index (that is the list of plants known to be in New Zealand) better reflects reality."
Design awards for Living Earth
Growing media company, Living Earth, has won the Gold Award for Best Graphic Design of Packaging, in the Designers Institute of NZ Best Design Awards for 2012. The Institute also gave the company a Bronze Award for their website, www.livingearth.co.nz.
New rose to celebrate Rose Convention
A new rose has been named Pacific Glory to celebrate Palmerston North hosting the World Federation of Rose Societies (WFRS) Regional Convention in November 2013. The cluster flowered rose with blooms of lavender pink with a fawn tinge, was bred by Tauranga rose breeder Rob Somerfield of Glenavon Roses.
Top gardens to be on display in Auckland DesignFest
Up to 25 gardens designed by some of the country's top designers will be showcased in a two-day festival in Auckland this November. This second Auckland Garden DesignFest, being held on November 16-17, is a chance for gardeners, landscapers, designers and the general public to visit a range of gardens across Auckland and speak to the designers who conceived them.
Joint NGINZ Landscape NZ conference in June
26 & 27 June are the dates for this year's joint NGINZ-Landscape NZ conference in Queenstown. This coincides with the Winter Festival there. For more details visit www.nginz.co.nz
New owners of Wanaka GC
Judy and Alan Curnow have taken over Wanaka Garden Centre from Helen Brown and Graham Haslam who are now concentrating on their garden maintenance business. Judy and Alan moved to Wanaka from Christchurch in 2009. Judy had enjoyed a career in real estate for over 20 years, and Alan has a landscaping background, having worked with Morgan and Pollard and established his own franchise as a landscape gardener. In Wanaka the couple owned Lake Wanaka Lodge for a period.
Trading uneven across the Tasman
That's the word from Craig Norman, President of the Australian NGIA. "We try to analyse it as a Board at NGIA and we can't," says Craig. There are pockets around Australia that are doing really well, but some in the industry are struggling. "You can't put your finger on it and say it's the GFC (Global Financial Crisis). It's not floods – we haven't had them for a little while. It's not drought, we're out of drought. It's really difficult. There's not one thing you could put it down to." Craig says the landscape industry is also reporting mixed messages, with some saying it's the quietest they've ever been, and others trumpeting their busiest six months on record. Craig says he's tried to analyse whether it's specific landscapers – their knowledge or their workmanship – but even those he'd rank as A-class are having mixed fortunes.
NSW and Victoria hit by heat
Both NSW and Victoria were jolted by sudden extremes of heat after Christmas, temperatures in Sydney reaching a record 45.8deg on January 18.
CEO at the Nursery & Garden Industry Association of Victoria, Euan Laird, says the temperatures blasting Victoria in January also came as a shock. The State was hit with what he termed a very sudden, very dry spell of extreme heat. "We had an absolutely fantastic Spring, coming off three years of really solid rain after the 10-year drought, so things were looking fantastic. And it's just gone dry. I don't think we've had a decent rain since Christmas." Euan says the industry has been enjoying an average to above-average season to date. Crucially the weekend weather has been good and people have been getting out in their gardens plus there was moisture in the soil. Christmas trade was also good.
Bob Wynyard from the NSW NGIA says January is traditionally a quietish time but that Christmas trade in the region had been "pretty good from all accounts. I think it depends how well geared up they are for it. People I spoke with had planned and they did extremely well. I think if you get the right stock in, talk to your customers and keep them informed, they'll come in." Bob also says the sheer intensity of the sun in January was giving some garden plants a hard time. "Certainly the heat has damaged a lot of plants. Anything with a fleshy herbaceous leaf in direct sunlight, or that cops a bit of direct sunlight."
Features in Commercial Horticulture Magazine,
February – March 2013 issue
Retail Round-Up
Our correspondent Trish Hosking talks to the new owners of Wanaka Garden Centre, Julie and Alan Curnow, who are making quite a lifestyle change since taking over last October. They've added a gift shop and larger grades to their offering. The Plant Place, Hamilton. says things are ticking over nicely. Bruce Sanson took up the lease on what was the former Green's Garden Centre site a bit over three years ago. The business was in liquidation at the time, having operated as Fresca Garden Style since Richard Younger had purchased it from Chris Green in 1999. Trish also checks in with the garden centre of the new Mitre 10 Mega which opened in Whangarei last August. Store Manager, Dave Glover, is very positive about the role of the garden centre in the overall business mix and believes it is going to be a huge drawcard. "I think it's something different in Whangarei. The presentation is going to be phenomenal out there. It's something very new, very different. With the café right next door to it, it's probably the heart of the store."
Nursery Round-Up
This issue we talk to the new owner of the NZ Palm Co, New Plymouth, Michelle Slape. Very much an impulse buy, Michelle says buying the company has worked out really well. The property "is like an acre of Pukekura Park. It's just gorgeous. I live on the premises. I get up, I have my coffee and I toddle over to work and I'm in heaven . . ." Also this issue, Trish Hosking talks to Craig Jervis of Kiwi Plants 2009 Ltd, Wellington, about some of his more unusual landscaping projects – including planting 30,000 plants along the Rimutaka section of the realignment of State Highway 2, the slopes so steep the planters had to be secured by ropes like abseilers as they did their work.
Australia's big tropical plant nursery of the north
Darwin Plant Wholesalers, Australia's largest tropical plant nursery, is owned and operated by a passionate and well-known plantsman, Darryl South. This big nursery occupies 38ha, 60km southeast of Darwin and lists more than 500 plant varieties. It supplies landscapers, developers, indoor plant specialists and garden retailers Australia-wide, as well as exporting on occasion. Blessed with a 12 month growing season it is able to produce a huge range of tropical and temperate plants with a faster stockturn than southern nurseries. We look behind the scenes at this unusual operation, and have pictures of some of the new lines it has in the pipeline.
Pohutukawa: a celebration of New Zealand's flowering treasure
Graeme Platt of the NZ Botanical Research Institute, has spent the better part of a lifetime searching out elite forms of New Zealand's iconic pohutukawa. In this 4-page photo essay, Part 1 of a series, he shares his insights. There are pics of the biggest pohutukawa trees in NZ as well as of some of the finest flowering and unusual forms.
South Africa turns it on for the 16th World Rose Convention
Hayden Foulds presents a full report on this international event, and on the pre- and post-convention tours that surrounded it.
Japan exchange visit was 'an awesome opportunity'
Juliette Curry, from Taupo Native Plants, visited Japan last October as part of the study scholarship programme set up between the New Zealand and Japan regions of the International Plant Propagators Society. Here she shares some of the highlights of her three-week visit
Guy Bowden is a nurseryman -- but a sculptor lurks within
Guy Bowden of Tawapou Coastal Natives, in Tutukaka north of Auckland, not only has a huge passion for growing native plants, he is also a very talented sculptor. Guy fashions his environmentally inspired works from timber and late last year one was voted among the top five exhibits at the NZ Sculptures on the Shore exhibition in Auckland. In this feature Guy explains what has drawn him to sculpting and the philosophies that motivate him.
The art of pruning
"Pruning, it seems like such an easy thing to do, just get out the appropriate tool and snip/saw away. No! Good pruning requires some understanding of what is actually going on from a p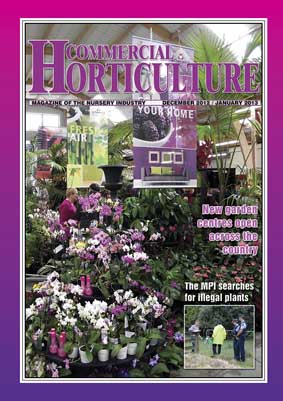 lant's perspective." In her Plant Basic feature this issue, Fiona Eadie spells out the essentials.
From Commercial Horticulture Magazine
December 12 / January 2013 issue

Slow start, but Spring got going well
"Spring was late starting but now it's got under way it's going really well. It looks like we're making up ground quite nicely, which doesn't always happen after a slow start." So said Palmers GM, Garry Stone, at the end of November and his comments would be echoed by many retailers after a succession of wet weekends and cold conditions put a dampener on normally bouyant early Spring sales.
Pot manufacturer Interworld in voluntary liquidation
Nursery production pot manufacturer, Interworld Plastics Ltd, of South Auckland, went into in voluntary liquidation in August. In a first report to creditors, the liquidators reported the reasons for the failure had been advised to them as a drop in sales, financial and reporting mismanagement by the company's previous accountant, and increased commodity and manufacturing costs. The Statement of Affairs as at 30 August listed unsecured creditors totalling $3.7 million.
Athco is taken over by Daltons
In a separate but related move, Daltons of Matamata have taken over the Athco pot distribution business previously owned by Auckland company PSP Ltd. Athco was the distributor for Interworld of its wholesale/commercial lines, with Horticom handling its products going into retail. Athco's range includes pots, propagation tubes and trays produced under contract by other local manufacturers and the German range of Desch products. Athco manager, Robert Ross, is now Daltons' product manager for pots and trays.
Bunnings open stores and more planned
A new Bunnings Warehouse is to be built on the corner of Great North and Titirangi roads in New Lynn, Auckland. Bunnings opened a new store in New Plymouth during the first week of December. The Molesworth St store includes a garden centre and is managed by Craig Wallace. Other Bunnings warehouses are under construction in Silverdale and Takanini. Bunnings NZ operation now comprises 22 large format stores, 25 small format stores and several dedicated trade centres.
Warning on potting mix after infections in Christchurch
Garden centres, nurseries and others handling compost or potting mixes are being advised to take extra care this Spring and Summer and review their health and safety programmes after an outbreak of legionella claimed one life on Christchurch in November and infected several other people.
Sam McGredy wins this year's Rose of the Year Award
My Girl, a rose pink hybrid tea bred by legendary rose breeder, Dr Sam McGredy, took the overall title of NZ Rose of the Year at Hamilton Gardens in mid November. In a first, all the awards on offer were won by New Zealand-bred roses. Balclutha breeder, David Benny, won best floribunda with Honeymoon, a creamy white rose. Tauranga rose breeder, Rob Somerfield of Glenavon Roses, won best climber and most fragrant for Climbing Blackberry Nip, a sport of his popular hybrid tea Blackberry Nip.
Bill Van Dyk - propagator and nurseryman
On Friday 2 November, Bill Van Dyk, of Van Dyk Nurseries, New Plymouth, passed away after battle with cancer, just after his 66th birthday.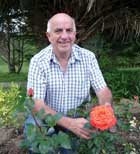 David Puflett - life dedicated to education
David Puflett, 'Puff' to his many friends, passed away suddenly at home during the evening of Friday 2 November, with his wife Lyn by his side. David made a huge contribution to horticulture over his career, especially to horticultural education and in latter years to the Young Horticulturist of the Year competition managed by the RNZIH Education Trust.
Brian Attfield - highly-respected rosarian
Well known rosarian and amateur rose breeder, Brian Attfield QSM (known to many as Attie), passed away on June 30 in Hamilton aged 84.
Palmers new-concept garden centre opens in Albany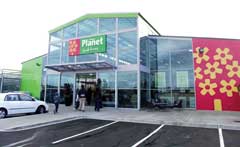 After three years of preparation the new concept Palmers Planet store opened on Greville Rd, Albany, on 15 September. The centre has 75 carparks, a gift wrapping service, information centre, children's play area, professional florist, a landscape and design service and an upmarket cafe.


These items are extracts only from the files of Commercial Horticulture Magazine.
Why not become a regular subscriber and get THE FULL STORY?
Comm Hort is available in full-colour traditional print format, or as a digital flip-book Click here to Subscribe.
Tony Barnes is manager of new Mitre 10
After 13 years as sales manager with Matthews rose nursery in Wanganui, well-known horticulturalist Tony Barnes is now full-time garden centre supervisor at the recently opened Mitre 10 New Plymouth. The St Aubyns St business is one of the new-format Mitre 10 stores and is on the site of a former Home and Trade that closed five years ago when the owners built a Mega on the north side of the city.
Kings open garden centre number eight in Auckland
The eighth Kings Plant Barn garden centre was opened in Henderson, Auckland, on 10 November. Taking some three to four months to construct, the familiar format of red and yellow barn-style main building, outdoor display area and parking covers 6000 sq metres.
Ngaroto Nurseries closing
Peter Graydon is closing his Ngaroto Nurseries near Te Awamutu after nearly 40 years of operation. Peter cites a change in peoples' lifestyles meaning less gardening, competition from other attractions and imported goods, more competition from box stores opening in his area, bad luck and some management wrong decisions as reasons for the closure.
Decision on prohibiting some plants deferred to 2014
The NGINZ reports several plant species being considered for prohibition from sale in the 2012 review of the National Pest Plant Accord List, have been held over for review in 2014. They are: Banksia integrifolia, Cornus capitata, Jasminum polyanthum, Rhaphiolepis umbellate. Another to be reviewed in 2021 is Archontophoenix cunninghamii – bungalow palm.
Review affects many home garden chemicals
The Environmental Protection Authority is proposing to modify or revoke the conditions upon which 29 organophosphates and carbamates may be used, says the NGINZ. Many are likely to become unavailable for use affecting a wide range of garden chemicals. Those likely to remain available with additional controls are Acephate, Carbaryl, Chlorpyrifos, Maldison (Malathion) Oxamyl. Those proposed to be phased out within six months are Bendiocarb, Benomyl, Carbofuran, Carbosulfan, Dichlofenthion, Ethion, Famphur, Isazofos, Omethoate, Phoxim, Pirimicarb, Pyrazophos. Those proposed to be phased out within three years are Dimethoate, Fenitrothion, Phorate, Terbufos. Those proposed to be phased out within five years but subject to additional controls are Fenamiphos, Methamidophos. Those proposed to be phased out within 10 years but subject to additional controls are Diazinon, Prothiofos. Retained only for indoor use with additional controls are Dichlorovos, Methomyl, and Pirimiphos-methyl.
Wine-maker is 2012 Young Horticulturist of the Year
Viticulturist Braden Crosby of Borthwick Estate in Carterton, has won the Young Horticulturist of the Year competition for 2012, with Andrew Scott, representing the vegetable sector second, and Karl Noldan, team leader at Wellington Botanic Gardens, third.
Features in Comm Hort December 12 /January 2013
Retail Round-up
In this issue we catch up with Mary Montague who with husband Warren has operated Southside Garden centre in Hokitika for 21 years. The garden centre is doing well as Hokitika appears to be in expansion mode. We also talk to Nicole Smith about her Canterbury gardenware and giftware company called The Company Shed which she established 5 years ago. This is mainly a mail-order business which imports most of its lines from the UK.
Nursery Round-Up
In this issue Tom Wilkinson of Robinsons Nursery, Masterton, talks about his new lines and shares the secrets that have kept this company profitable for more than 100 years. Graeme King gives us an overview of nurseries Westflora and Tauranga Bay which have now combined on one site in Westport. Blair Stuthridge talks about how his Christchurch nursery Arcadia Plants has had a fantastic Spring and is looking to expansion.
The day the MPI came calling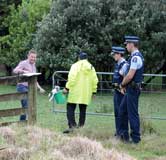 On the morning of 11 October 2012, staff of the Ministry for Primary Industries with police escort conducted surprise searches of the Auckland Botanic Gardens, the home and bach of its curator Jack Hobbs, and the home of well-known plantsman, Graeme Platt. It appears the raids were to establish whether the 'suspects' were harbouring Agathis silbae, a purported species of the Araucariaceae family and which, not being on the MPI's list of plants known to have been in NZ prior 1997, would be an illegal import. We have extensive coverage of this matter and its background, with an article by Graeme Platt and a statement from the MPI.
Personality Profile – Suzanne Sullivan, landscaper
Suzanne Sullivan, has overseen the landscaping for every one of Ryman Healthcare's 25 retirement villages from Whangarei to Invercargill. Big projects are her forte. She has worked in the landscape industry for well over 20 years. The Christchurch landscaper operates from her office at home on the outskirts of the city, near Prebbleton, with a broad portfolio covering private residential to lifestyle blocks through to large commercial projects. In this feature Suzanne shares landscaping ideas with Comm Hort's Trish Hosking
Personality Profile – nurseryman Ian Duncalf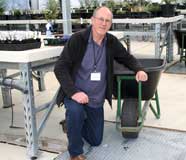 Over a lifetime in horticulture, Ian Duncalf has worked in many diverse areas, from pure research, to propagation, production, mail order marketing. "Horticulture," he says, "is about managing risk. If you don't risk trying to cross the road, you'll never get to the other side. This is what we have to manage . . ." We trace Ian's career in this feature article by Kerry Johnstone.
QR codes, the marketer's new tool to reach out to customers
2D barcodes -- they're popping up everywhere, in newspapers, advertisements, on signs, billboards, product labels. Trish Hosking looks at how these codes can be used as a marketing tool for nurserries and garden centres.
Software system for larger nurseries
The Passfield production management software system used by some of Britain's biggest nurseries is being adopted by nurseries in Australia. Australasian agent, Sean Caddy, here explains the system and its benefits.
Biofeed Compost Tea
This feature looks at the Southland organic plant food business of Greg Crowe and wife Noni, who have spent 19 years turning their organic compost-tea business, Biofeed, from an eco sideline into a success story.
From Commercial Horticulture Magazine
October / November issue 2012


Spring a little wet, but trading ok for most
After a promising early start, Spring bounced back into the wet through most of the country during September with a series of cold wet bands that sent gardeners back indoors. In spite of this, however, Comm Hort's Kerry Johnstone found businesses he talke to near the end of September were upbeat and reporting good trading.
Seedling growers T&M Nurseries, Kumeu, say they are enjoying strong sales right across the country including sales through their South Island grower, especially in potted colour, vegetable and flower seedlings, reports manager, Tony Bult.
Greg Taylor of greenhouse manufacturing company, Taylor Built, Silverdale, says "We've got quite a bit going on although it is a little slower than at this time last year. We recently installed the large crop cover at the new Palmers Planet in Albany and we will also be installing one at another garden centre in Auckland. "One thing I would say, however, is there is very little maintenance being done. Some customers have had their greenhouses up to 20 years and have been putting off maintenance."
"Spring was very early," says Nalin Gooneratne, general manager of Southern Woods Trees, Canterbury. "But then in mid-September, we had a 4 degree frost! Still, we are busy with orders coming through. The main forestry planting season finished in early September and we're now sending product out for the more frost-prone forestry areas. "We've sold out on several lines. Native plants have picked up in demand and so have exotics but the demand for stone and pipfruit is not so strong."
Sales through both the retail and commercial arms of lawn seed and fertiliser supplier, Burnets Horticulture, have been very good, says sales manager, Maree Armit. "People are definitely keen to get into their gardens. It's just that we've had a lot of rain and cold weather during September.
Allenton Nurseries closes
After 60 years in business Ashburton-based Allenton nurseries, one of New Zealand's top ornamental tree-growing operations, closed its gates at the end of September. "It's not good news," says manager, Nathan Milne, but that's the way things go." The nursery was started in 1951 by Ivan McIlroy focusing then on forestry and shelter trees before moving into commercial fruit trees to orchardists and in more recent years becoming a major grower of ornamental trees and shrubs on its 100 acres. Employing some 12 full-time staff plus extras at peak times Allenton had a reputation for well-grown trees, its budding and grafting skills and its strategy of introducing improved selections.
Colin Campbell, an Aussie garden icon
Ex-pat Kiwi, Colin Campbell, who became one of Australia's best-known garden writers and broadcasting personalities, died in August in Brisbane aged 79. His many years in the Australian garden industry made him well known throughout the country through his talkback radio shows, articles in newspapers and magazines, countless talks and presentations to garden audiences and as a presenter of the Gardening Australia TV show.
N
ew owners at Colorworx
Peter and Brenda Arnesen are the new owners of Colorworx Nursery, Tauranga, having taking over on 5 June from David and Liz Penn who have 'effectively retired' although Dave is still acting as a consultant for the nursery. Both from Tauranga, Peter and Brenda have a great interest in things horticultural although this is their first venture into the nursery world. "Fortunately," says Peter, who has a marketing and business background, "we have a vast amount of expertise here in the nursery." Although perennials will remain the main thrust of the nursery, Peter says "we are introducing a wider range to include cordylines, grasses and some hedge lines. It's a way of carrying on sales during the Winter months when perennials are mostly out of season."
100 year-old Gibbs Nurseries for sale
Tracey Sinclair is the third generation to call Gibbs Nurseries & Garden Centre in Dannevirke her own but sadly, family circumstances have forced her hand and she and her husband, Peter, have reluctantly decided to call it a day. Her grandfather, Jack Gibbs, began the business and, Tracey says, the earliest invoice they have found is dated 1915, 97 years ago. The business is listed for sale as a going concern or as land and buildings. No deadline has been set as yet, but Tracey says they will continue trading through the Spring, probably have a huge sale to reduce the stock, and then close the doors if no buyer emerges.
New owner for Danny's Palms
Ron Hill is the new owner of Danny's Palms in Hobsonville, Auckland. The business specialises in outdoor-grown palms and Ron's intention is to continue down that path but add a little more variety in terms of the species he offers. Manager, Rhys Chaplow, has been retained and is now spending more of his time on landscape design. Ron wishes to promote that side of the business. He comes from a 37-year sales and marketing career in the food and packaging industries, based in Auckland and Wellington.
Yard Art takes over Phoenix Italia
Yard Art Designs and Landscape Supplies Ltd of Pukekohe have added the well-known Phoenix Italia statuary range to their offering. Yard Art's husband-and-wife team, Gilbert and Tricia Joe, bought Phoenix a few months ago and incorporated it into their business on the site of the old Dairy Company at Paerata, near Pukekohe. "Our factory here was under-utilised and the Phoenix Italia range fits in perfectly with the contemporary designs we were already doing. It was a bit of a punt, but we had both the factory and the display space so we decided to go for it," says Tricia.
Noel McMillan, polyanthus king
Highly-respected teacher, plantsman, and committed community worker Noel McMillan QSM, of Ohinewai, Huntly died suddenly on 28 August. When Noel began teaching at Huntly Primary School in 1960, he eked out his salary by growing plants on his parent's quarter acre section. This enterprise quickly expanded to become McMillan Hardy Plants. Noel and his brother, Don, bought a four acre property at Ohinewai turning it into a garden centre and tree and shrub nursery. He became fascinated by the potential and possibilities of polyanthus. Plants he raised from seed originating from California were so stunning in form and colour and people so eager to buy them that McMillan Waikato Polyanthus was born. Breeding cyclamen was Noel's other major interest and he spent many hours developing his bearded mini, midi and maxi cyclamen which again became very popular with gardeners.
These items are extracts only from the files of Commercial Horticulture Magazine.
Why not become a regular subscriber and get THE FULL STORY?
Comm Hort is available in full-colour traditional print format, or as a digital flip-book Click here to Subscribe.
Nikau Hill Nursery on the market
Nikau Hill Nursery and Water Gardens in Marton is up for sale. Doreen and Derek Higginson specialise in large grade perennials, bog and water plants, plus some tree, shrub and grass lines. Around 90 percent of sales are on-line but the nursery and gardens are also open to the public Tuesday to Saturday for gate sales. The business began in 1994 and now carries more than 1000 plant varieties. The decision to place it on the market has not been taken lightly, but Doreen says the couple are getting older and there are other things they'd like to do. She says they have a lovely home on the property and the idea would be to sell it with the business, making it an ideal operation for a family. "It's just got too big. We've had the best year ever. Our wholesale side has got very large now. If we were younger we would just go crazy now . . ."
Taupo Native takes over Rotomanu Nursery
Taupo Native Plants has taken over Rotomanu Native Plant nursery near Lake Brunner in the South Island. "The nursery went into receivership about March-April and we bought it in mid-July," says Philip Smith of Taupo Native. "It's a great growing climate for our plants. We're busy setting it up for reveg work on the West Coast as well as supplying plants for the business as a whole. We've always had work in the South Island and this operation will help us greatly." Juliette Curry has been entrusted with managing the nursery at Rotomanu. She has been a propagation manager at Taupo Native.
Mitre 10 plans more garden centres
The Mitre 10 group opened its 33rd store in the Mega format this year and the plan is to have 44 opened by 2016, says Graeme Ross its gardening operations manager.
FEATURES IN COMM HORT October/November 2012
Retail Round-Up
In this issue we catch up with Zeeb McNicol of Plant Zone Direct Garden centre which opened two years ago in Kerikeri; we meet Wendy and Tony Trainor the new owners of Macpherson Garden Centre in Palmerston North; and we speak to Beth Campbell who with husband Wayne have run Campbell's Garden Centre in more for some 18 years.
Nursery Round-Up
This issue Trish Hosking talks with Benji Woodman of Forgotten Fruits Nursery, Kaiwaka; Greg Kitson of Ambrosia Nurseries, Christchurch; and Alter-Natives Nursery & GC, Waipu.


Lan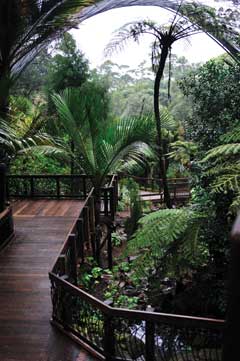 dscape Awards 2012
Hugo Barnes, Auckland Zoo's curator of horticulture, took this year's
overall title of Landscaper of the Year for his work on the zoo's large
ecological habitat. We have 4 pages of pics and coverage
of all the winners in these Landscape NZ Awards, which are held every two years.

Egmont Seeds
We look into this New Plymouth-based company, now the Primary Sponsor of the Ellerslie Flower Show, was formed by John McCullough in 1996 and is now one of the big seed suppliers of NZ.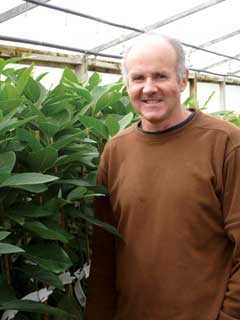 Lynwood Avocado Nursery
Stephen Wade planted his first four hectares of avocado trees back in 1983 and within five years was adding another six or so hectares. Then "because I was too tight to buy trees" he decided to have a go at propagating them himself – and so the avocado nursery was born. Since then Stephen has constantly been experimenting and improving on the difficult techniques required and he outlines these in this Trish Hosking feature article.
NZ's Top Garden Centres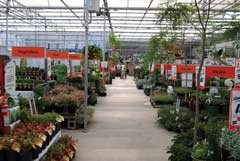 A 4-page feature on the garden centres which took top honours in the NGINZ/Yates' awards this year: Palmers Garden Centre Tauranga, winner of the standalone garden centre category; Mitre 10 Mega, Nelson, (pictured) winner of the home improvement category, for garden centres within large department stores; and runners-up Nichols Garden Group Dunedin and Mitre 10 Mega Greymouth.
Young Horticulturists of the Year
We profile each of the six contestants in this year's competition.
The Lavender Fields of Furano
Trish Hosking takes us on a tour of Farm Tomita in the Furano Valley of Japan, a mecca for tourists each Summer when the lavender fields bloom. Tomita farm has been growing lavender as a family business for more than 50 years and has learnt how to survive by changing with the times.
Plant Basics
Fiona Eadie continues her discussion of weeds and the most effective ways of dealing to them.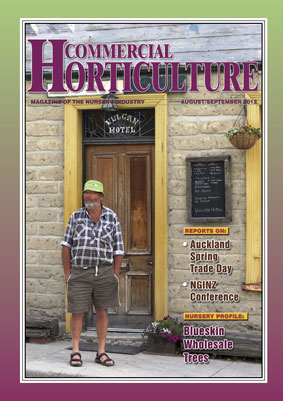 From Commercial Horticulture Magazine
August / September issue 2012

Signs of improvement after Winter
Come the end of July, there were signs that the garden trade was starting to move again after a fairly cold and wet Winter had taken its toll on turnover. Commercial Horticulture Magazine's Kerry Johnstone sampled feeling in the marketplace:

Sandi MacRae, Landscaper: "Being Winter, it's slow but whether we will see a big move this Spring or whether that will be next Spring is something we will have to wait and see," said landscape designer, Sandi MacRae of quake-hit Christchurch. However, there is work coming through for her now and "when insurances come through and the rebuild gets under way, then it's going to go completely mad!"
Sandi has projects re-doing several earthquake-affected driveways and says many clients then ask her to do a whole garden revamp. "Landscaping is generally the end of the process in the repair of properties."
Sandi sees a definite trend towards more use of flowers in gardens but "in mass plantings of flowers rather than the rows we had a while ago – more waves of plantings merging into other foliage colours." Natives are still very popular and Sandi says there are many combinations of colours in natives which can be used.

Trevor Allen of specialist compost and growing media company Advanced Media Supplies Ltd, Napier, said business in July started to pick up after a slow May to June period. "Most of my customers are vegetable seedling growers in the Gisborne and Hawkes Bay area and they are just kicking off planting their tomato seedlings. It's quieter on the nursery front but there are orders now (July) starting to come through in the area and around Palmerston North."
Trevor comments that the closing of Matthews Roses, although a blow to the industry, has opened up the opportunity for him to supply more media to his own rose grower client.
"For me, it is positive but overall it doesn't show growth in the industry. However in talking with landscapers, it seems they are a little more positive this year. Mind you we had that feeling last year. The main thing now is to work smarter to retain and maintain your customers by giving them the best value."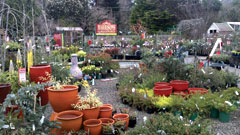 Lance Bills: "Weather is the dominating factor for us," said Lance Bills of Harrisons Country Garden World in Waikanae. "Last weekend (28 July) was good because the weather behaved itself. It's been a patchy Winter -- not that wet but continual frosts. We're tracking along about where we were last year and Spring is next month. We're fully stocked and ready to go.
"Roses have been slower than in past years. It is a blow and a surprise to see Matthews go. Roses are still an important category even though it may be hard for growers to make much out of them.
"And retailers don't make much either because they are sold too cheaply considering all the intense work that goes into producing them. Fruit trees of all types have stayed firm including citrus and vegetables are all good."
Lance hasn't "fired up his crystal ball" but he and his staff are hoping things will be much better for the coming season. "The only differences we really see in trading can be put down to weather. When the weather is right, the people are about and we're away laughing."
Auckland Spring Trade Day
In spite of an eruption of Mt Tongariro on the previous day, Auckland Spring Trade Day took place on 7-8 August. As usual, it looked a treat, with many of the exhibitors putting tonnes of effort into their displays. Exhibitor numbers were down a little, which is not surprising given a combination of factors, including the ongoing recession which has been biting hard over Winter.
But those who were there reaped the benefits as a quiet but steady flow of visitors came through on Tuesday evening and big numbers turned up on Wednesday. There was a real buzz throughout the venue and many exhibitors said they had had a very successful day. The high number of visitors from out of Auckland was particularly noticeable this time, as was the prominence of landscapers.
There's a full report with pics in Comm Hort Aug-Sep 2012 issue.
Vernon Harrison -- a lifelong passion for growing trees
The industry was saddened to learn of the passing on 18 May of respected nurseryman, John Vernon Harrison (84) of Palmerston North. He had retired from Harrison's Trees five years ago. Vernon spent some 60 years growing trees and saw many changes in the nursery industry, from open-ground to container growing, from Fergie tractors to quad bikes and from shovelling horse manure to the modern fertiliser regimes. His youngest brother, Peter, remembers Vernon milking the family cow in Palmerston North, an area now well covered by houses.
Major horticulture congress in Brisbane 2014
More than 2500 delegates from more than 120 countries are expected to attend the 29th International Horticultural Congress to be held in Brisbane in August 2014. The event is a joint initiative between the Australian Society of Horticultural Science, the NZ Institute of Agricultural and Horticultural Science, and Pacific Island countries.
Some of the world's leading horticultural scientists will present research at the Congress, which is the first to be held in this part of the world since the Sydney Congress back in 1978. The Congress is aimed at all horticultural sectors, growers, packhouse operators, industry consultants, service providers, academics, and students.
The programme will cover fruit and vegetables, flowers and ornamentals, landscape and turf, plus much more. Technical sessions include such topics as disease and pest management, new postharvest developments, advances in production systems, approaches to biosecurity and quarantine management, developments in horticultural economics and education. Technical tours are another part of the Congress offering
Barbara Pownell
The industry was saddened to learn of the passing on 9 July of Barbara Pownall, northern regional manager for the NZ Horticulture Industry Training Organisation. Barb was widely known by members and associates of the horticulture industry for her commitment to horticulture trainees, her love of plants and propagation, and her charm and personality will be sadly missed by the many industry associates.
Combined NGINZ-LNZ Conference
The Nursery & Garden Industry Association and Landscaping NZ will hold a combined conference in Queenstown next year, probably in June. Details for the event and surrounding activities are being finalised between the two organisations.
Is gardening dead?
Jeff Elliott, of Elliott's Wholesale Nursery, Amberley, has some outspoken things to say in an interview with Commercial Horticulture magazine in the August-September issue. For a start, he says, growers are not getting sufficient returns for their time and investment:
"A lot of growers are getting 10 percent return, or they're not even getting that, it's maybe only a one percent return. If you were getting 20 per cent you could grow one tenth the amount of plants and still make the same amount of money.
"That's the position the chains have put us into and I think it's going to come and bite the chains on the arse. If it doesn't bite them one way, it'll do it another, because the internet will start to do it."
But Jeff believes the problem goes much deeper than just return on effort: – people aren't interested in gardening anymore. "Gardening is going the way of knitting and stamp collecting. What we're facing with our industry is that the people are not coming out to play in the area we want them to play in any more. The internet is providing us all with so much to entertain ourselves that gardening as an entertainment industry is suffering.
"If you look at it really objectively – this is only my gut feeling – 30 years ago when I first started in this industry I would've said that of the average person aged between 30 and 70, 80 percent of them were interested in gardening and gardened. I would say today there is 50 per cent of the population doesn't do any gardening at all . . ."
"Then if you looked at the people who do the bare necessities but weren't really interested, you'd find there's another 30 per cent. The actual gardeners are now the remaining 20 per cent. So the 80:20 has completely flipped.
"That's what we're fighting with in our industry, the fact that people just aren't interested any more. We're up against it at the moment."
Jeff has plenty more to say on this and other matters. See Comm Hort Aug-Sep issue 2012.
Matthews to close their rose nursery
Matthews Nurseries, Wanganui announced they will close at the end of the year. The company has grown roses for 65 years but in a letter to customers, Bob and Cath Matthews say the business is no longer viable. "We are proud of what we have achieved, growing roses for New Zealanders, establishing virus-free, easy care, no spray varieties etc. Naturally this decision has not been taken lightly."
Muriel Fisher of Fernglen
Muriel Fisher, the native plant lover who will always be associated with Fernglen Gardens in Birkenhead on Auckland's North Shore, passed away 23 July only two days before her 97th birthday. In 1954, Muriel married Bill Fisher who shared her enthusiasm and interest in plants. Forty-seven years ago, Muriel and Bill began the creation of Fernglen which, with its alpine house, is now a Garden of Regional Significance. In 1970, Bill and Muriel received the Loder Cup for their work in preserving, propagating and distributing native plants. In 1985 she was awarded the Queen's Service Medal
Auckland Zoo takes top landscaping award
Hugo Baynes, Auckland Zoo's curator of horticulture, took the overall title of Landscaper of the Year at Landscaping NZ's 2012 Landscapes of Distinction Awards ceremony at the end of July. His work at Auckland Zoo's large ecological habitat, Te Wao Nui, also took top honours in three large project categories of the awards.
Native plant grower Pukerau Nursery of Southland, won two gold awards and a silver. Its owner, Arne Cleland, received recognition in the small project category for his work at Longford Kindergarten, Gore.
Colorscape on the market
Motueka wholesale and retail nursery, Colorscape, is on the market. "We've been here almost 20 years and I've spent a lot of time on the road on sales trips. Besides, we have no sons to take over and the daughters don't want to. So it's time for a change," said owner Peter Trewavas. Peter and his family, including his parents, are intending to head north to Cambridge where other family members live.
Oratia Native Plant founders look for new direction
Bev and Geoff Davidson announce they're are looking for an exit strategy from their Oratia Native Plants Nursery and are "open to suggestion." They believe the nursery property is too valuable a resource to just sell off for re-development and hope its future might lie in being operated by community trust, or run as a botanic garden or arboretum. "I'm already on the pension and Geoff will be in a month or two, so we really do need to look at the alternatives," said Bev.
NZ Garden Centres of the Year
At Awards Night during the NGINZ Conference in late July, Palmers Garden Centre Tauranga was announced winner of the standalone garden centre category of this year's Yates Garden Centre of the Year awards. Winner of the home improvement category, for garden centres within large department stores, was Mitre 10 Mega Nelson.
Runner up in the standalone garden centre category was Nichols Garden Group Dunedin, which also featured strongly in the NZ Gardener Marketing Awards. Mitre 10 Mega Greymouth was runner up in the home improvement category.
NGINZ Young Achiever
Daniel Chong, propagation supervisor at Rainbow Trees Nursery in Auckland, was announced the 2012 Hortfert Plus Young Achiever of the Year at the NGINZ Conference. He will now go forward to represent NGINZ at the Young Horticulturist of the Year competition in November. This was Daniel's second attempt at the competition. His competitors were Kelly Jean Kerr, a senior sales assistant and landscape designer at Springvale Garden Centre Wanganui, and Alastar Scarle, a budding and grafting specialist at Lowlands Nursery Taranaki.
FEATURES IN COMM HORT August/September 2012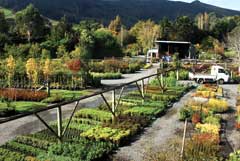 Brownie's Patch
– Blueskin Wholesale Trees & Shrubs
Undoubtedly, one of the horticulture's industry's well-known characters is Mark Brown of Blueskin Wholesale Trees & Shrubs in Waitati, about 20 miles north of Dunedin on the Main Road. There's a 4-page feature on this nursery, which Mark and Claire Brown started back in 1977, in Comm Hort Aug-Sep 2012 issue. Blueskin grows mainly hardy shrubs, roughly 70 percent natives and 30 percent exotics, about 150,000 per year and Brownie says that's big enough.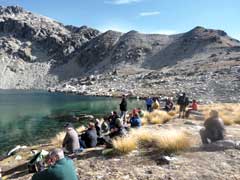 IPPS tour through Central Otago
Some 30 IPPS members took part in a horticultural and scenic tour through Central Otago preceding this year's IPPS conference in Cromwell, the number sadly restricted by the lack of accommodation in the areas to be visited. Hayden Foulds was on the tour and sent a full report for Comm Hort Aug-Sep issue.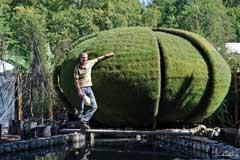 Personality Profile – Landscaper Ben Hoyle
Over the past 15 years, Ben Hoyle has established himself as one of New Zealand's top landscape designers, much of his reputation coming from his creations of gardens at Ellerslie International Flower Shows. Kerry Johnstone profiles Ben in Comm Hort Aug-Sep 2012 issue.
These items are extracts only from the files of Commercial Horticulture Magazine.
Why not become a regular subscriber and get THE FULL STORY?
Comm Hort is available in full-colour traditional print format, or as a digital flip-book

---
-- News from the Recent Past . . .
From Commercial Horticulture Magazine
June / July issue 2012

Steady, steady -- that's the buzz word of the moment
Steady is a vague word," says Mark Packman of commercial growing hardware supplies company, Egmont Commercial, Christchurch, "even though it does pretty well describe the situation now." However, Mark says his business (because it sells a very wide range of items for the garden trade) is a good indicator of the mood in the industry and he is "cautiously optimistic" about the coming season.

"Looking at the good forward orders we've had so far, my gut feeling is that there's enough interest out there to be fairly confident."
Mark is definite that this is the time to be proactive. "It's good to be able to offer value to c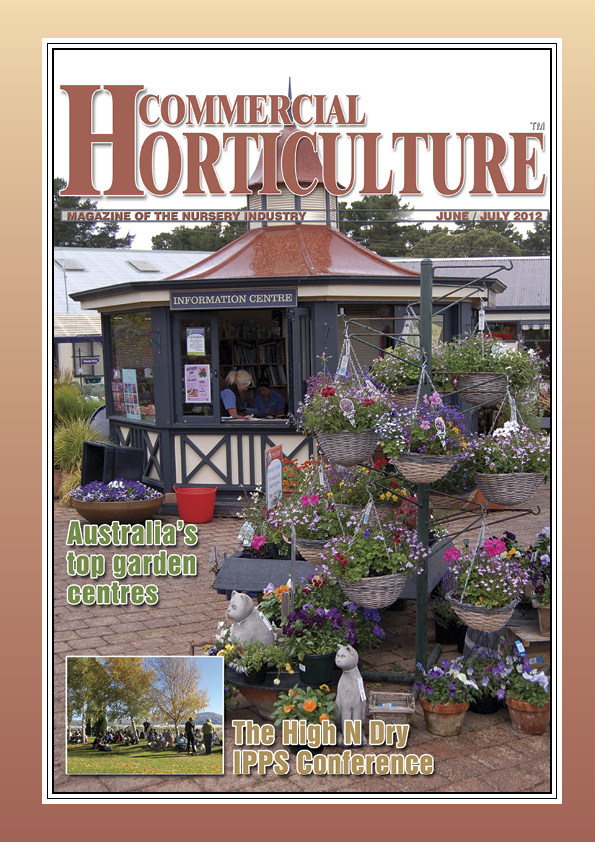 ustomers too and this is a good time to do it when people have time to stop and consider things. "In this business it's not a matter of sell, sell, sell and see how much you can make in a short time but to working alongside your customers and be in for the long haul. That's our policy. "On the commercial side, there has been a strong response to our Jiffy range. People are getting the benefit of savings in production."

Mark recalls Donald Odering of Oderings Nurseries, saying that many people will stop spending on other discretionary things before they'll stop spending on their gardens. "I think this is true today, so maybe it's not all doom and gloom for gardening."

Barry Lowe, California Home and Garden
Trading for California Home and Garden in Wellington over the last couple of months (April-May) has evened out, says manager Barry Lowe. "April was very good with our Easter promotion and the weather playing a very good part. Mothers Day in May was only steady though. We did the normal plants such as cyclamen and offered a gift-wrapping service but I must admit we didn't really climb into it. We do have a lot of giftware though and we always do a pretty good trade with this."

Barry says that the last 12 months have been steady overall but in terms of the economic situation "we're doing okay." He comments that bills coming in for things like repairs and maintenance are a big drag on the business. "Even a small metal or plastic cog for electric doors was $700 and it was a couple of thousand dollars for flashings in our Hutt store. I think 'how much potted colour do I have to sell to cover that?' But you just have to suck it up." And there has been a huge jump in insurance thanks to the Christchurch earthquake.

Barry's father, Keith, now in his mid-80s is still active working in his garden and attending to his bonsai collection.

Nicola Rochester, Everiss
Nicola Rochester of growing media company Everiss, Auckland, says business is good. "I'm handling a lot more enquiries now for our 4th generation Osmocote which we introduced last year so that is a positive for us. It's starting to resonate and people are clicking to its high-end technology.

"Everiss have carried out a revegetation trial using Osmocote. Reveg is often seen as cheap so people tend to use cheap fertilisers but our trial clearly demonstrated that there are far fewer rejects, and rejects cost money. Overall, in the ornamental market you could say we are maintaining a steady level. There are a few people in the industry who are picking up but the total market, I would say is really just steady. However, we need to focus on what we do and do it well and not be too concerned about our perceived competition."

Nicola believes that in this climate you have to be always looking for new opportunities and not just hope everything will be all right. "Look for opportunities but don't look for excuses."
David Williams, Redpath Pacific
From Palmerston North, David Williams of Redpath Greenhouses reports a "steady year" with much of the business weighted on the agricultural rather than the horticulture side. "Hort has still been ok although the movement hasn't been so much in flowers as in previous years. Instead, we have been doing well with growers of salads and vegetable crops." David estimates that Redpaths have put in a couple of hectares of houses this year, mostly in the North Island He also comments that there is an increasing number of people growing for farmers' markets and selling that way rather than relying on other people's marketing. "They are committed growers but are not large commercial types selling to the big supermarkets. Of course, we do sell to lifestylers and to people who grow for the large corporate chains.
"Putting garden centre operations under cover to make it an all-weather experience is not big business but, again, it has been steady," says David. There's also a movement in agriculture for buildings as covers for pigs and dairy. Service and maintenance work of their installations is also a significant part of Redpath's overall business.
"Because of the high currency, the export side has slowed. Overall, business has been steady but we wouldn't mind if it were better!"

Pip McVicar, Cedar Lodge Nursery
Pip McVicar who took over Cedar Lodge Nursery in New Plymouth at the end of last year is not only relishing the challenge but says trading has been "above projections" and "really across the board."
Also, in a positive step, just over a couple of months ago, the nursery took on an apprentice, Jesse Laursen. Pip is also looking forward to being one of the two judges for the Hortfert Plus Young Achiever of the Year at the NGIA Conference in July. Having taken part in the competition, Pip says, "it's good to be looking at the event from the other side."

Palmers to open a new style garden centre in Albany
A new concept in garden centres will come to NZ when Palmers open their Palmers Planet store in Albany in September. In addition to a garden centre, the 1000sq m Planet will provide a range of products fro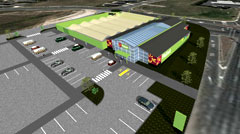 m barbecues, spa pools and outdoor furniture, to hats, scarves, books and jewellery, wall art, kitchen utensils, and gourmet deli items.

There will be a 96-seat licensed cafe, childrens play area and a full landscape and design service.

Richard Hackett has taken the franchise for the new store. He comes from an IT background, having worked for large international companies such as Hewlett Packard.


Ron Phillips, King of Pittosporums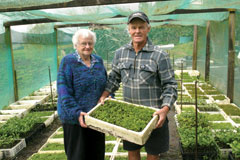 It was with sadness that the nursery fraternity learned of the sudden death of plantsman Ron Phillips, and the subsequent closing of the Te Awamutu nursery he and Ngaire had run since about 1975. Ron died quite suddenly in February, almost with his boots on, Ngaire says. "In January he was still keeping his eyes open for good trees for the coming seed-picking season. He was slowing down, but at 82 we thought it was age catching up with him. Then quite suddenly he developed acute myeloid leukaemia and in less than three weeks from the diagnosis, he had passed away." Interest in native fauna began when Ron and Ngaire bought their farm in 1961. Ron began growing pittosporum and kauri seedlings as a hobby and developed a business while they were still dairy farming.

Ngaire says their advertising and articles made Commercial Horticulture Magazine very much involved with the growth of the venture in the days when planting trees was not the thing to do. Ron's death does not mean the end of the business, however. Son Neil and his wife Denise have carried on the name of Phillips Native Seedlings as they continue to propagate in their Taranaki nursery near New Plymouth.

Landsendt celebrates its 50th
Landsendt Subtropical Plants Nursery in Oratia, West Auckland, celebrated its 50th birthday in May. Started by Dick and Annemarie Endt, the nursery is now run by their daughter Carolyn and her husband Anthony Melling. The development of a display garden has added a popular wedding venue to the nursery's offerings.

New garden centre in Te Horo
Lynwood Nursery, Levin, has opened a new garden centre in nearby Te Horo. The Te Horo Garden Centre is stocking all of Lynwood's plant lines, as well as plants from other growers.

Nursery Round-Up
In CommHort June/July 12 issue we talk to: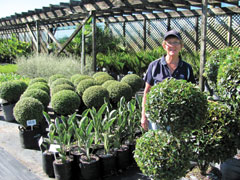 Joan Stott of AWA Nursery in West Auckland. Joan (pictured at right) reports "enormous growth" in sales over the past couple of years for her wholesale operation which is also open to the public. She puts a lot of effort into website marketing and has an ongoing radio advertising campaign aimed at the public. The nursery grows 85 percent of the plants it sells.
Janica Amoore of Woodleigh Nursery, Waitara. Janica and Quin Amoore took over Woodleigh last December from Glyn and Gail Church who had run it for 25 years. They're maintaining the nursery's original focus on mail-order hydrangeas but are also now looking at developing a range of unusual species of scented plants and some natives.
Stephen Butler at Butler's Nursery Blenheim. Stephen started his nursery in the BoP back in 1977, later moving it to Blenheim to concentrate on growing olive plants. Now the nursery offers a wide range of material. "I enjoy doing bits of this and that," says Stephen, "We do a lot of lavenders for instance."

Nook Road Nursery closes
Nook Road Nursery in Wanaka, closed its doors for the last time in late June after more than 40 years of trading. The nursery was started back in 1968 by Maryed Urquhart and was known as Maryed's Garden, a popular destination for people in Central Otago. It has been operated by Maryed's son James and his wife Vicky since 1981. Diana Manson, sales manager, who has worked in the nursery and garden centre for the last 20 years, says, "It's the end of an era." She says the present economic climate is one of the reasons for the imminent closing. "It's not economically viable any more. Also fashions change, people are not prepared to drive out here and people are building bigger houses on smaller sections so their planting is minimal. Jamie and Vicky have decided it's time to begin a new phase of their lives."

NGIA annual conference set for July
The NGIA will hold its annual conference in Auckland on 18-19 July. The conference is open to both NGIA members and non-members.

Included in the line-up of speakers is international garden centre consultant John Stanley, who will give his perceptions of where the garden industry is heading into the future. The NGIA will also outline its strategic plans for industry development and there is a full social programme, including an informal dinner on the first evening and a formal dinner with industry awards on the second.

Focus on landscapers
In Comm Hort June/July 12 issue we begin a regular feature looking at NZ landscapers, their work and what makes them tick. First up is Ben Edgar of Tutukaka and Anita Sloot of Recreational Services, Whangarei. Most of Ben's work is on coast Northland properties, while Anita is focussed on amenity work around Whangarei, including some innovative planting's of that city's roundabouts.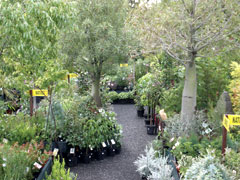 Australia's top garden centres
Three garden centres were honoured in this year's Australian NGIA top retailer awards. They were Van Loon's in Victoria, for best large garden centre; Newman's Nursery & Topiary Cafe of South Australia, for best medium-sized garden centre; and Gisborne Nursery, (pictured) Victoria for best small garden centre. Comm Hort features these nurseries, with plenty of pics and the comments of judge Peter Worsp, in its June/July issue.
FEATURES IN COMM HORT June/July 2012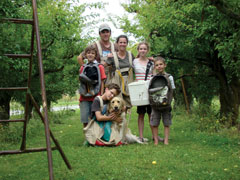 Four million plants keep them busy at Planters Seedlings
Yes, that's the number of mainly vege and annuals seedlings that Cam and Claire Porter and their family produce each year at their Havelock Horth Nursery, Planters Seedlings. Facilities at the nursery include six propagation houses totalling about 2,800sq m as well as a 325sq m shade area and a 140sq m seeding/potting shed. The business consists of a retail shop and wholesale punnets and plug production for market gardeners. In a 4-page feature Cam describes his operation and the way they do things, also noting how they have had big rewards from joining the Business Mentors NZ programme.


Bottle Trees ready for the NZ market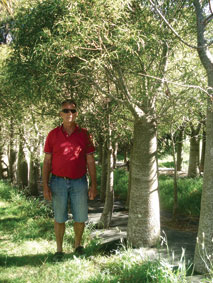 Brian Keucke has been growing bottle trees at his Hahei, Coromandel, property for 20 years – that's how long it takes to bring these Australian natives to a good size. Now he has some 1500 ready for the market, with more to follow. Brian (pictured at right) talks about these unique trees, their uses and culture in a 1-page feature story.

Pursuit of excellence the aim at Classic Patch
On February 24 this year Judy Washington opened Classic Patch, her new nursery and garden centre in Timaru. "We want to make our main focus in the nursery the pursuit of excellence," Judy says. The nursery team numbers six and are "all passionate about plants," racking up more than 50 years' experience between them. Classic Patch grows and propagates its own plants including NZ natives, bulbs, shrubs. Seeds, including some quite unusual varieties, are sourced from surrounding gardens. The nursery supplies wholesale and retail and Judy plans to have people set up market stalls once a month to let the community get together to sell their local crafts and produce.

High 'n Dry in Central Otago – the IPPS Annual Conference
IPPS went to Cromwell in Central Otago this year for its annual conference and Comm Hort has a 5-page report in its June/July 12 issue. There were some interesting visits to local horticultural businesses, plus to some wineries, along with official business, speakers and workshops.

Scholarship trip a once in a lifetime opportunity
Richard Beaumont reports on his three-week visit to Japan where he was hosted by various nursery operators as part of the IPPS NZ/Japan exchange visit scheme. One of the things he learnt from the trip says Richard is that "you are never too old to work. Age is of concern in the NZ horticultural industry but not to worry, I learnt that in Japan 61percent of the current agricultural workforce is over the age of 65 -- therefore everyone in New Zealand has plenty of years left in them yet!: Other lessons coming through were "The need to change with the times/demands -- one grower previously grew ornamental plants, now produces food crops." "Diversification (is necessary) to ensure a consistent income all year round." "Add value to your own produce." "Turn homogenous goods into a higher value end product."

Show those weeds no mercy
Fiona Eadie in June/July12 Comm Hort shares her special techniques for dealing with weeds. "For some strange reason many people seem to consider that weeding is easy and could be done by a myopic monkey; such individuals, managers or business owners often have major weed issues," she says. She outlines what "good weeders" should know about their horticultural enemies and what to do and not to do when you're dealing to them.
These items are extracts only from the files of Commercial Horticulture Magazine.
Why not become a regular subscriber and get THE FULL STORY?
Comm Hort is available in full-colour traditional print format, or as a digital flip-book

From Commercial Horticulture Magazine
April / May issue 2012
Feb-March retail sales holding; retailers positive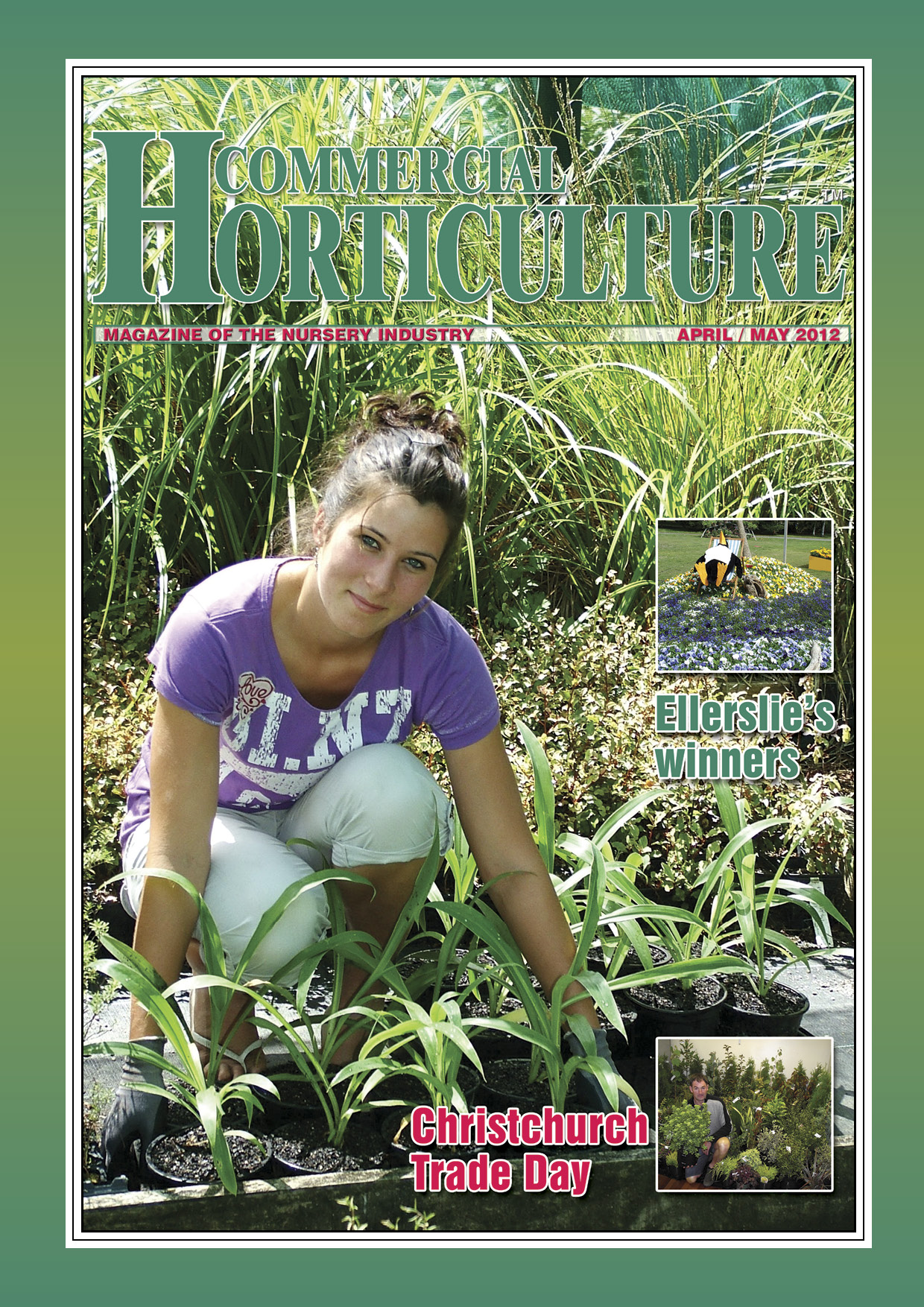 Late Summer and early Autumn aren't normally boom times in the garden trade. It's a time many retailers are dropping casual workers and tidying the garden centre for Winter. But apart from seasonal dips, the trade this year seems to be holding steady.
Sales at Oderings' eleven stores were still going well, said manager Darryn Odering, speaking in late March. "February was a bit slow this year, but March was better than last year – you'd have to be better than last year wouldn't you, after the earthquake."
Graeme Ross, gardening group manager for Mitre 10 Mega, said the garden category was strong over January and February but slowed in March. "The weather still has a large impact on the results we achieve in any given month," he said, pointing out that Summer rain had helped sales. "Customer numbers are up on this time last year – consumers are out shopping and retail sales are improving. Garden colour – flower seedlings, potted colour and perennials are also experiencing strong growth."
Sunny Nelson has seen its fair share of weather bombs lately, but sales were still okay," said Helen Paul from The Quarter Acre Store.
New Plymouth's Big Jim's GC, last year's Garden Centre of the Year, is still doing well, said manager Vince Naus. "We're tracking maybe a fraction behind last year, and last year was good." Despite the bad weather, customer numbers and spending are still on par. Big Jim's focus is on new gardeners, whose obsession with edibles is still pumping money through the tills, Vince said.


Easter Weekend -- brilliant weather boosts sales
It was one out of the bag -- an Easter when near perfect weather spread across New Zealand and hung on throughout the long weekend.
From Dunedin, Rhys Gibbs, gm of Nichols garden centres, reports a "fantastic Easter," with the group of four stores 48 percent ahead of last Easter. "It's better for us when the Easter break is earlier," he says. Also giving the group a big fillip was the announcement in late March that Nichols Dunedin not only won the garden category but was also named overall Dunedin Retailer of the Year 2012.
Palmers Rotorua: "Our best Easter in a long, long time, says Darryl Pierce of Palmers Gardenworld Rotorua. "We had a lot of very happy customers." Plants that moved were "the old populars especially pansy punnets, colour of all sorts and citrus. Trees and shrubs have ticked along well in the last two or three weeks but have dropped compared with a few years ago." Darryl puts this down to the lack of new subdivisions in the area. And this is one of the reasons the garden centre has gone into water features in a big way. The garden centre makes these a major thrust of the store with 30-45 working water features on display at any one time.
In the last two years, it has also imported three containers of pots, water features, giftware and jewellery. "We work hard to give our customers reasons to come back. We're up on last year so we're pretty positive here."
Harrisons Waikanae: "It's been brilliant weather and the customers have been in a very positive mood accordingly, says Kaye Whipp, manager of Harrisons Waikanae.."Gardeners were after plants "across the board." Winter veges, such as broccoli, cabbages, spinach as well as sweet peas and other seedlings were moving well. "Our rhododendrons, leucadendrons, camellias, have come in recently and they are starting to move," says Kaye.
Palmers Hobsonville: For Dale Hill of Palmers, Hobsonville, the Easter weekend was "fairly even right through. "People wanted vegetables, with Winter crops going in now. There was a lot of colour moving with quite a bit of hedging and project material, stones and bark also in demand.

Christchurch Autumn Nursery Trade Day 2012
Christchurch Trade Day was held over two part days in March, coinciding with the first two days of the Ellerslie Flower Show.
Trade Day opened from 5pm to 7.30pm on Wednesday 7th and again the next day from 9am until 2pm. This timetable worked a treat and made for a very relaxed and sociable event with plenty of opportunities for networking.
The venue itself – the Canterbury Horticultural Society's Hall in Hagley Park -- is certainly proving its worth as a good one for such a show, its size and design providing an ambience and general buzz that is missing from many trade shows in bigger venues.
The timing also allowed for both visitors and exhibitors to take in Ellerslie and Trade Day in the same trip.
Numbers of both exhibitors and visitors were down this year but that was to be expected what with the economic downturn and the fact that Christchurch, having lost around half of its available accommodation from the earthquakes, had been fully booked out months before March.
However, the quality, both of what was on display and of the visitors coming through, was apparent and feedback in general was that people were happy with what they did and saw.

Kings Plant Barn celebrates 20 years in garden retailing
It is 20 years since Doug Godfrey, Brian King and Stephen Fisher opened Kings Plant Barn in Porana Road, Glenfield on Auckland's North Shore. Their resaons for success? SaysDoug Godfrey: "We call it a gardener's garden centre. We stick to a formula rather than going off at tangents. We listen to ideas, implement good ones and improve on things which are useful. We've continually added to our range and facilities including the popular cafes." The Kings group now numbers seven stores with another due to open, in West Auckland, later this year.
Industry pays tribute to Mike Skegg
Mike Skegg, former ceo of the Nursery & Garden Industry Association of NSW and ACT, (NGINA) passed away on 31 March. An ex-pat Kiwi, Mike moved to Australia in the 1990s to take over as managing director of Yates Australia. He is well known in New Zealand as the ceo of Yates NZ from 1982-89. He also served on the board of the NZ NGIA for two terms.
Franchisee sought for Albany Palmers
Palmers is seeking a franchisee for Palmers Planet, its new concept store being built in Albany. The new centre, which is modelled on Haskins stores in the UK, will focus on gardening but also have a wide range of other lifestyle merchandise including books, clothing and spa pools.
Garden Centre Group taken over
The Garden Centre Group which has 129 retail outlets across England and Wales, and the largest gardening club in Britain with over two million members, has been sold to private equity firm Terra Firma in a deal valued at £276 million pounds.
Plenty of gold awards at this year's Ellerslie
Of the 13 Gold Awards handed out at the Ellerslie International Flower Show in March, eight went to exhibition gardens.
Commenting on the high international standard of this year's gardens, convenor of judges, Jim Fogarty from Australia, said "The plant quality is brilliant and the standard of design and build outstanding."
The judges awarded two of the award-winning gardens even higher honours -- the Show's Supreme Award went to Max's Pipe Dream, an Engineer's Garden designed by Paul Roper-Gee (Beca) and the Yates People's Choice Award went to multi-award winner, Ben Hoyle of Blue Gecko Landscapes, for his spectacular 'She loves Me, She Loves Me Not' design.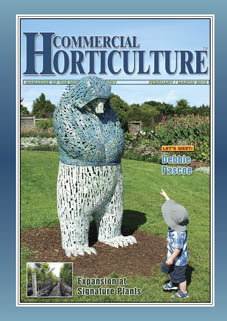 From Commercial Horticulture Magazine
Feb/March issue 2012
Steady trading over the Christmas break
If there was one word that summed up garden centre trade over December, it would be "flat."
Barry Lowe, manager of California Home & Garden, says it's been "steady as she goes." Their Miramar and Lower Hutt garden centres stock a big giftware range,which sold well.
"With our public services facing a bit of pressure, Wellington is very much in a sort of stable stage – we're certainly not booming."
Alister Davis, of Plantorama in Timaru, hasn't seen much growth either – but he's happy with his nursery/garden store's Christmas sales. Their garden centre focuses more on gardeners rather than shifting to Christmas gift lines, and for that purpose the weather has been perfect.
"It's been good; certainly not miles off last year," Alister says.
Darryn Odering says all eleven of the Odering's garden centres in the South Island and lower North Island did well over Christmas.
Business was "as good as last year" – though a big aftershock in Christchurch on Friday December 23rd stopped trading cold in their five Christchurch stores. "A good range of stuff was selling, especially giftware, gift vouchers and flowery houseplants particularly. Quite a few hand tools selling too – secateurs and things – definitely gardening-related gifts."
Palmers marketing executive, Janalle McMeekin, said Palmers stores have had "like most other retailers – a fairly flat period. However we found over Christmas that while the garden centre itself - outside plants, traditional sellers – was flat, we've been able to boost that by Christmas items that we hadn't traditionally sold before. Games, novelties and toys and things like that for kids – we found that when we advertised them they sold really well."
Bunnings' national greenlife buyer, Peter Stewart, says it's been "an unusual and difficult season" for their garden departments.
"December was the worst in many years in most places. When I wrote that in my month-end report, the boss said 'Yes, but Dunedin was nice and dry'. I said, well one store doesn't make up for the other 42.
"Overall our sales came out okay, but certainly nothing to write home about. Very unpredictable and all over the place, really."
The Warehouse's national green/gardening buyer Steve Dunshea said "We were very happy with our sales for December. From a national level we were up on last year which is great. The gift section was strong. Traditional poinsettias were higher than last year, but we had less range of that product."
New owners for Weekend Gardener
Weekend Gardener magazine has been taken over by South Island company Mainland Press. Rob Lahood had published the fortnightly Weekend Gardener for 15 years before putting his WG Publications company into voluntary liquidation on February 10.
Several new garden centres opening
Greymouth's Mitre 10 store is getting an upgrade, with a new Mitre 10 Mega planned there soon.
Bunnings opened a new small-format store in Hawera in mid-February. A big-format Bunnings in Blenheim is also in the final stages of construction, with an opening planned for April. Bunnings also have plans for a New Plymouth store this year and stores in Silverdale and Takanini in 2013.
Palmco has opened a new Outdoor Living Centre in Auckland to complement its Kerikeri show garden. The new Onehunga premises, at 360 Church St, holds the largest range of field-grown palms in NZ.
Meanwhile, Matau Garden Centre in Balclutha has changed hands. New owner Brett Stewart can be contacted on 03 418-1890.
Wine barrels in short supply
Half wine barrels, popular as garden planters, are becoming scarce because of the downturn in the wine industry. Barry Lynn of Barry's Barrels in Albany is also concerned wineries are cutting costs by using stainless steel drums with oak linings, which are much cheaper than the "very expensive" new oak barrels.
Varoa mites becoming spray resistant
In trials at Plant & Food Research, currently used sprays are killing only about 20% of varroa mites whereas once they had almost 100% success. Meanwhile, beekeepers are taking part in trials of new varroa-resistant bees, also bred by Plant & Food. The results are due by August.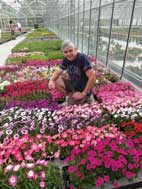 Ellerslie looking good
Dave Mee, Ellerslie Flower Show MD, says ticket sales are tracking up from last year, with over 12,000 sold by early February. The Show is shaping up to be "one of the best," Dave says. "The quality of the exhibition gardens and horticultural exhibits is the strongest I have seen in the last six shows." There will be more than 80 horticultural exhibits, with over a quarter of a million plants on display at the Hagley Park venue Christchurch 7-11 March.
Our picture shows John McCullough of Egmont Seeds, Ellerslie's main sponsor, with some of the 15,000 plus flowers destined for the show.
NGIA Conference 2012
"Ways to Make the Boat Go Faster" is the underlying theme for this year's NGIA Conference in Auckland 18-19 July, borrowing on the successful strategy adopted by Sir Peter Blake to take the America's Cup in 1995. The Conference aims to set some ambitious goals for the industry for the future.
Rust imports to battle lantana
Northland Regional Council has applied for two new rust species to be imported to control the invasive weed Lantana camara. The NRC says the rust fungi, Puccinia lantanae and Prospodium tuberculatum, would work together to reduce the impact and spread of lantana, which is one of the world's ten most invasive weeds and a particular problem in Northland's warmer climate.
IPPS Conference
Registrations are open for this year's IPPS Conference to be held in Cromwell, Central Otago April 26–29. Further information and registration forms are available on the IPPS website, www.ipps.org.nz

News from Around the World
Comm Hort Feb-March issue has several pages of news and views from around the world. Included is an interview with Emma Iddison, ceo (pictured) of the Nursery Industry Association of Western Australia with some interesting insights on what's happening in that part of the world, and a look at Mittagong Garden Centre, voted best medium-sized garden centre in Australia last year.
From UK we learn about a new breed of "XTreme shoppers" which are starting to make an impact on retail and also learn that 75 percent of shoppers in Europe now consult the internet before deciding where to buy products.
FEATURE ARTICLES IN COMM HORT Feb/Mar 2012 issue
How did a drug seller ended up in gardening? Although always interested in plants, marketing expert Debbie Pascoe never set out to make them her career. But one thing led to another in her life and here she is with a high profile in the NZ garden industry . . .
---
From Commercial Horticulture Magazine
Dec /Jan issue 2012
Rachel Vogan steps down as president of the NGIA

Rachel Vogan resigned as president of the NGIA at its Board meeting on December 7. In a statement Rachel said it was "with deep sadness" that she found herself in a position where the resignation had become necessary because of health reasons. Rachel joined the NGIA Board in 2005 and was 18 months into her two-year term as president.
As an interim measure, the NGIA Board elected Vince Wylaars of Zealandia Horticulture as president until its AGM and elections in July next year. Kate Hillier of the Ellerslie International Flower Show, was appointed vice-president.
Suntory's $100,000 donation well worthy of recognition
Back in February, the Japanese seed company Suntory donated $100,000 towards earthquake relief in Christchurch, a gesture which may have gone largely unnoticed in the nursery trade. The funds were channelled through the NZ Red Cross 'to assist in the support of rescue and recovery efforts in the areas victimised by the earthquake,' says Simon Thompson of Zealandia Horticulture in Christchurch.
Acknowledging that "it's a bit late," to be recognising the gesture, Simon however says he only found out about the donation at the beginning of December. "Still, it's a really great donation and probably the biggest from a horticultural company." Zealandia is master agent in NZ for Suntory's Colourwave plants.
Potato psyllid now a major problem for home gardens

The devastating tomato-potato psyllid, first spotted in New Zealand in 2006, is increasingly turning up in home gardens and doing its destructive work. Garden centres are reporting increasing numbers of their customers complaining of yellowing tomato plants, leafy potato tops with nothing to show underground, or potatoes with zebra-chip mottling and which stay crunchy after cooking. Garden centres are recommending their customers spray with Yates Mavrik but it is acknowledged there is as yet no really effective control for the psyllid.
Planning delays for new mega store
The opening of Palmers new mega garden store in Albany, north of Auckland, has been put back to August next year because of consent delays. It was to have opened in September this year. The 5000sq m complex will be based on a concept similar to the giant Haskins garden stores in the UK. Its opening will now coincide with the opening of a second Palmers mega garden store, this one in Hamilton.
New beneficial mite to join the battle against white fly
A new predatory mite is set to join the fight against thrips and whitefly. Netherlands-based Koppert Biological Systems has spent 10 years developing the mite, Amblydromalus limonicus, which it says excels in its gluttony and capacity to reproduce. It is also claimed to be the only predatory mite that eats larger thrips' larvae and eggs, as well as all larval stages of whitefly. Koppert is planning its first deliveries for January 2012. The product will be supplied in bottles, but the predatory mite can also be dispersed through a crop using a blower.
Steve Huxtable moves to Gro-Chem
Steve Huxtable, one of the well-known and personable characters at Daltons, has made a career change leaving the company after five years, his last role being that of territory manager for the Bay of Plenty and lower North Island. His new role is as nutrition specialist at Wellington-based chemical and fertiliser company Gro-Chem in Porirua.
Mike Skegg retires as ceo of the NGINA
Mike Skegg has retired for health reasons as ceo of the Nursery & Garden Industry Assn of NSW and Act (NGINA), a position he has held since 2005.
An ex-pat Kiwi, Mike moved to Australia in the 1990s to take over as managing director of Yates Australia. He is well known in New Zealand as the ceo of Yates NZ from 1982-89. He also served on the board of the NGIA for two terms.
Change of ownership for Cedar Lodge Nurseries
Greg Sampson has sold his specialist New Plymouth conifer nursery, Cedar Lodge, to its sales and nursery manager, Pip McVicar and her partner Luke Webster.
Annette Officer, popular personality
The industry was greatly saddened to hear of the passing of Annette Officer on Friday 28 October after a brief illness. Annette had been 31 years at Riverview Growers, Kakanui, first as business manager and later as sales manager.
Young Hort of the Year -- produce grower takes top prize
Ben Smith of Pukekohe, representing industry group Horticulture NZ, emerged from strong competition as winner of the 2011 Young Horticulturist of the Year Competition in November. The nursery industry representative, Mike Scott of Scott Base Nurseries Whenuapai, took second place in the AGMARDT Market Innovation Project awards.
Ben Smith is a 25 year-old grower manager for Status Produce at Tuakau, responsible for a 5.5ha greenhouse site growing speciality tomatoes for supermarkets, food service companies and export.
Ben competed against five other finalists from around the country.
---
News from Commercial Horticulture Magazine
Oct/Nov issue 2011
Auckland Spring Trade Day 16-17 August 2011
If it's one thing Reference Publishing does well, it's picking the worst weather on which to hold its Trade Days! Christchurch Trade Day in late July coincided with one of the heaviest snow storms in history, and Auckland in mid-August turned out to be on the coldest day since records began; snow fell in the inner city for the first time since 1939.
Some exhibitors coming from outside Auckland had to pull out as they couldn't get to the venue. Many visitors would also have been put off by the extreme conditions. The Trade Day opened into the evening of Tuesday, for the first time in Auckland, but the numbers attending were disappointing. It was bitterly cold. Wednesday's visitor numbers returned to something like normal, however, and most exhibitors pronounced themselves happy with the show overall.
Aussie garden centre guru Tim Pickles came across the ditch from Sydney and entertained and informed some enthusiastic audiences during his three presentations. There was some wonderful stock on display and the majority of exhibitors were offering Show Specials or Prize Draws.
Click on Auckland Trade Day August 2011 in the panel at left for Comm Hort's report on the show.
Psyllid hammers potato industry

A new report from industry group Potatoes NZ paints a grim picture of how much the tomato/potato psyllid has cost the potato industry -- $120 million with losses in the last year alone estimated at $28 million or 20% of the value of the industry at farm gate. Nurseries have not so far reported any real problems but it is thought the pysllid could begin to increasingly affect home gardeners growing tomatoes and potatoes.

Loder Cupto Mark Dean

Mark Dean of Naturally Native NZ Plants, Tauranga, has been awarded the prestigious Loder Cup for 2011. The Loder Cup was donated by English botanist Gerald Loder in 1926 to honour New Zealanders who work to "retain, investigate and cherish New Zealand's incomparable flora."

Egmont Seed Co now Ellerslie's title sponsor
New Plymouth-based Egmont Seed Company, NZ's largest flower seed company, has signed on as the Ellerslie International Flower Show's title sponsor. John McCullough, general manager of Egmont Seed, says: "We're passionate about flowers and we want to encourage more people in Christchurch to enhance the Garden City. The event is a showcase for all things gardening and we are looking forward to providing attendees with inspiration and even more value when they step through the gates."

Andrew Stewart sells MacBird Floraprint

Melbourne-based plant label manufacturer and di stributor, Macbird Floraprint, has been sold to printing company Immij NZ Ltd as from 8 August 2011. The Macbird brand, staff and locations will remain the same as will contact details. Founder and owner, Andrew Stewart, is staying on as a consultant for the rest of the year, then part time after that. Darren Sibbison from Immij takes over as general manager.
Andrew has been a regular visitor to New Zealand, visiting customers and always exhibiting at Trade Days. "I've always enjoyed coming over, usually six or seven times a year. Our business in NZ has been building up every year and we now supply nurseries right around the country with both stock and custom labels. We see that continuing into the future." And for the future, Andrew says he will be "doing a bit of everything. I'll have a bit of time to do a few things which I haven't had in the past -- there's still a lot of living to do."
Te

Awamutu's queen of roses

Rosarian Patricia (known to all as Paddy) Stephens, passed away on July 26 in her 95th year. Along with her late husband Pat, she was well known throughout the world of roses and helped put Te Awamutu on the map as the 'rose town' of New Zealand.
IPPS Japan Scholarship

Richard Beaumont of Ardmore Nurseries is the recipient of this year's International Plant Propagators Society's Japan Scholarship. The scholarship includes a three-week study tour to Japan, which Richard took in October.
New technical director at Everris

Dr Sam Stacey has been appointed Technical Manager for Everris (formerly Scotts) based in Sydney.
Queensland doing it tough

Queensland has had it tough over the past year -- if it's not devastating weather, it's problems with the economy and changing lifestyles affecting spending patterns. Heavy rains over an extended period brought significant flooding to many areas during late December 2010 and early January 2011 and led to three quarters of the State being declared a disaster zone. Then tropical cyclone Yasi blasted through with gale force winds, more flooding and storm surges in the first week of February. "Retail trading is somewhat depressed across the board," Don Scotts of the NGIQ told Comm Hort magazine. "You wouldn't think doom and gloom on the world markets would impact on gardening, but it dents people's confidence."
The Winter weather wasn't too bad, he said. "The last four to five months have been quite cold, but provided we get warm weekends now the general reports from retailers are very good, with positive trends."
Q

ueenstown school first to have a green roof

Auckland-based Greenroofs Ltd has designed and planted a green roof on the Remarkables Primary School in Queenstown, the first NZ school to have one. The green roof serves several purposes: reducing stormwater runoff, providing insulation and much-needed further outdoor learning and playing space as well as helping absorb noise from the nearby airport. A unique feature is that children, teachers, parents and visitors enter the school by the boardwalk on the roof then descend to the classrooms underneath. Some 20,000 hardy plants were plug-planted in a 75mm growing medium with a high component of pumice to keep weight down and for drainage. It is expected that the roof will be 90 percent covered after one year, completely covered in three to five years and require very little maintenance.
---
Feature Articles in Comm Hort Oct/Nov issue 2011
Gardens of Excellence
The winning gardens of Landscaping NZ's "Landscapes of Distinction" awards are described and pictured in a 4-page illustrated article. We have some pictures below.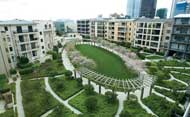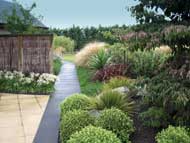 Personality Profile – Dave Ogilvy
A Waikato man through and through, Dave Ogilvy of Bruntwood Nurseries has never lived out of range of the sound of cowbells. His father didn't want him to become a nurseryman, but he worked in a nursery during school holidays earning, as he says, incredible money -- 50 cents an hour. It was the start . . . In this feature article Dave talks to Kerry Johnstone about his background and experiences over a lifetime in the nursery industry.


Bruntwood's Dave Ogilvy
News from Commercial Horticulture Magazine Aug/Sep issue 2011

Rose honour for Stan Palmer

Stan Palmer, founder of New Zealand's first garden centre, has been honoured with a special limited edition of the Palmers Gold Rose, an exclusive new release specially commissioned to celebrate the Golden Anniversary of the Palmers garden centre chain. Palmers Nursery in Glen Eden was transformed into the first Palmers Garden Centre 50 years ago.
Kerry Johnstone bids farewell

After 17 years with Commercial Horticulture Magazine, editor Kerry Johnstone (pictured) decided to call it a day and retired in August. Kerry says he has enjoyed working with the people in the industry over his time with it. "I have spoken to hundreds of people here and in Australia and almost without exception, people within this industry have been and are genuinely friendly and honest, prepared to talk and to share what they are doing and what they know."
Kerry will continue to contribute articles to the magazine from time to time.


Kerry Johnstone leaves Comm Hort
Lingering Autumn, then the freeze

For most of NZ Autumn lingered unseasonably long into June and early July, then Winter really came with storms, snow and freezing temperatures heralding what would become some of the coldest periods in New Zealand history. But reasonable trading over the long Autumn helped many in the trade survive the ongoing recession and carry on through into Spring.
Australia feeling the pinch

"Terrible weather, the industry is terribly depressed and in fact, retail spending overall is down," reported Bob Wynyard, Nursery and Garden Industry NSW and ACT's Industry Business Development Officer, during late July, and his comments could also be applied to the rest of Australia.
"People are putting their money in the bank. One graph shows money going up into savings and a graph which shows consumer spending going down in about the same proportions."
Bob noted increases in the price of power and petrol were also forcing people to restrict their spending mainly to necessities. "All this is combined with political uncertainty. The approaching carbon tax is likely to mean further price increases. These are all unsettling influences for Australians. The nursery industry is really hanging out for a good Spring this year after a poor one last year and a poor Autumn this year."
Retailers are spicing up their mix

Retailers in NZ are increasingly turning to diversification as a way of increasing sales in difficult trading times. "The focus in garden centres these days has to be on so much more than just the plants," says the owner of Palmers Hamilton Garden Centre, Murray Sanson, who comes from a retail rather than a horticultural background. He told Comm Hort magazine: "We added an apparel range (part of the display is pictured here) and a pet care range, and we also increased our artificial flower offering. It's gone very well. We're fortunate here in having a 1000sq m building which gives us the luxury of experimenting with new product lines. For instance, we've moved our pots outside which has given us a lot more display space."
Murray was upbeat about the coming Spring. "I'm not complaining. It's been a mild Winter so far and I'm quietly optimistic about Spring. We'll take a steady as she goes approach," he says, adding that an All Black win at the World Cup would be just the boost the economy needs to build on the positive signs that are starting to appear.
"But my main focus going into this Spring will be to pay down the last four months of accounts and get some money back in the trading account."
Kings Plant Barn's Silverdale manager, Charlotte Rutherford, says their future direction is also diversification. "Increases to our market share will come from diversification in range and continued great service," she says. We're expanding on from the grow-your-own (vegetables) theme to 'make-your-own' too," she says, giving cheese-making kits as one example. "We've had really good success with these." Charlotte made some mozzarella herself and found it easy. Beer-making kits also feature, together with preserves and some delicatessen lines, "yummy jams and chutneys etc."
The store is also extending its giftware, but always with a focus on products that relate to gardening. Books are another area Charlotte would like to expand into. "People want education, but it's difficult getting it right. A lot of books are just too detailed or too expensive. Generally they need to be simple."
There's a lot more from garden centres – as well as a nursery round-up – in Comm Hort August/September issue.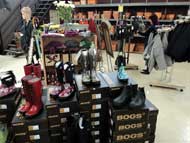 Apparel on display at Palmers Hamilton
Naja Garden Centre shifts

After 25 years on its site on the road leading into Mangawhai Heads, Naja Garden Centre is now on a new site having moved to The Hub, a relatively new shopping block in Mangawhai Village about 3km away.
Plant give-away promotion a great success, says survey

An independent survey of a promotion by the Australian NGIA: "Plant-Life Balance - Put a Plant on Your Desk," shows the campaign has been very successful. It concluded that people's negative attitudes toward gardening were lessened, they learned more about the benefits of plants, were encouraged to buy plants and that a new generation of plant lovers had been created. In the promotion, 20,500 plants were given out to the public on March 2 around the country. From this the survey shows that 6120 people became actively involved in looking after their plant, a 30 percent response rate.
Feature Articles in Comm Hort Aug/Sep issue 2011
Chelsea Flower Show bounces back

Despite the struggling British economy, this year's Chelsea Flower Show was a bigger than ever success, says Kate Hillier (Ellerslie Flower Show boss) who attended the show as a judge. "After a couple of years when designers were struggling with sponsorship for their gardens, a positive feeling pervaded the show with garden sponsors all back on board and gardens bigger and better than ever.
"At least two of the Show gardens had budgets of over $1,000,000. And the Royal Horticultural Society selectors were in the enviable position of turning away fully funded gardens. There were 13 fantastic Gold Medal winning gardens which pushed the boundaries of great design and plantsmanship." Kate's report with pictures is in Comm Hort Aug/Sep issue. Shown here is the Irish Sky Garden, which won a Peoples Choice Award.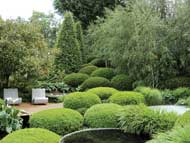 Irish Sky Garden at Chelsea
Reveg is the name of the game
Treeline Native Nursery near Rotorua grows the basic range of revegetation material – some 300,000 plants per year. It is the featured nursery in Comm Hort Aug/Sep 11 issue.
Treeline grows the basic range of revegetation material – kanuka, manuka, pittosporums, ake ake, hoheria, cabbage tree, plagianthus, phormium and wetland grasses, plus a range of ornamental trees, shrubs and grasses for landscaping. In the last few years, wetland plantings on conservation areas, waterways and farms have become a significant focus. The nursery has four propagation houses, a 600sq m shadehouse and 60sq m packing shed. Its small staff of five have specific roles but are well able to handle most of the nursery tasks as required. One of many innovations at Treeline is a mobile trailer-mounted, turntable potting surface – pictured here.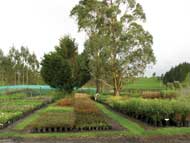 Implementing an integrated pest management programme

Strategies employed by Southern Woods Nursery, Christchurch -- from a paper presented by Ema Hewson to the IPPS Conference in Blenheim last year. "We have completely moved away from the calendar-based spray programme to a more preventative spraying system with an integrated pest management (IPM) approach," she says.
The three main reasons for moving away from the calendar-based spraying approach were to:
i) minimise environment impact
ii) be safer for the health of people in the nursery
iii) reduce the costs of chemicals being used.
In a 3-page illustrated article explaining how the process was implemented Emma concludes: "Since using IPM strategies at Southern Woods Nursery, not only are we using fewer chemicals but we also have better control of the whole system. This is due to having more knowledge in all areas of the process and therefore we are able to make better decisions."