Nursery World is website of The Reference Publishing Co Ltd, Auckland, New Zealand.
Commercial Horticulture Magazine: New Zealand's Nursery Industry Magazine
Nursery Registers: directories of the nursery and related industries of New Zealand and Australia
Organisers of Trade Days - nursery industry trade shows in Auckland and Christchurch
Manufacturers and distributors of the Signs Please range of POS sign holders for retailers
NZ distributors of the Hollow Log range of garden ornaments and collectables.

---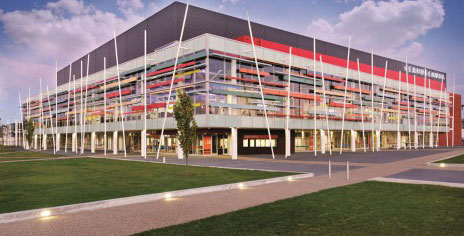 North Island Trade Day,
Hamilton, 8 August

Bookings now open for stands


The Claudelands Arena Event Centre in Hamilton is venue for North Island Trade Day on 8 August this year.


Click Here to view current exhibitor list or to book a stand.


It is five years since the last North Island Trade Day, which was held in Auckland so there is a lot of interest in Trade Day this year.

The shift of venue to Hamilton has been made for a variety of reasons. An important one is that Hamilton is much easier to get in and out of for both exhibitors and visitors.

The Claudelands venue is big and has plenty of parking and there are plenty of accommodation options nearby.



Please give us a call on 09 358-2749 for any queries.
---
Reach your market through Comm Hort
Regular advertising in Commercial Horticulture Magazine will maintain your profile and take your message deep into the NZ garden industry – nurseries, retailers, the landscape and amenity sectors.
. . . in the print edition
Our next edition is for distribution 20 February 2018. Let us know your advertising requirements by end of January please.
Limited budget? Why not try just a Classified Ad in the magazine's Marketplace section – prices start from as low as $20 and as an added bonus your ad will also immediately appear under the Marketplace section of this website.
We can help you with creating your ads. Please phone (09) 358-2749 for assistance.

. . . an on-line at this website

Click on the "Book a Classified Ad" button at the top of this screen to get your advertising messages and promotions immediately out to the nursery and related industries.

The calculator will show you the cost of your ad after you key in the wording and specify the dates it is to run.

If the ad has news value, we'll include a link to it in the regular newsletters we send out to the entire industry so you can be sure your ads will reach total coverage.

---
NZ Nursery Register

The 2017/18 edition of the NZ Nursery Register is now available. The Register carries a mass of detailed information about all companies and people in or associated with the garden industry in NZ. The listings are published free, which is why it is so comprehensive.
The Register is a fantastic place to advertise to reach the NZ garden industry. Many buyers make their copies last two or more years and the Register's penetration is as high as 86% into some sectors.
please give us a call on (09) 359-2749 for details.

You can order the NZ Register on this site (click here for options) or please phone 09 358 2749. Price is $66 plus GST and delivery within NZ.

---
Trade Lists On-Line
Trade Lists On-Line (TLO) -- see button at top of this screen -- is an on-line extension of the NZ Nursery Register.
It is a section of this website where nurseries can post their Trade Lists, many of which are indexed in a searchable database which now contains nearly 50,000 plants, many with detailed descriptions.
TLO is available, by password access, to all buyers of the current edition of the Nursery Register, or by direct subscription. Searchers can find plants by name or attributes.

For more information, or to list your plants or products, phone Reference Publishing (09) 358-2749.

---