Nursery World is website of The Reference Publishing Co Ltd, Auckland, New Zealand.
Commercial Horticulture Magazine: New Zealand's Nursery Industry Magazine
Nursery Registers: directories of the nursery and related industries of New Zealand and Australia
Organisers of Trade Days - nursery industry trade shows in Auckland and Christchurch
Manufacturers and distributors of the Signs Please range of POS sign holders for retailers
NZ distributors of the Hollow Log range of garden ornaments and collectables.
Member of NGINZ

---
News about us . . .
Auckland Nursery Trade Day

Auckland Autumn Trade Day took place on Wednesday 20 March at its new venue, the Life Convention Centre, 110 Montgomerie Rd, Mangere.

Click here to see some pictures from the show. These were taken at the end of set-up day, Tuesday. We have a full report in Comm Hort April-May issue, now available.

The show looked great in the new venue and many of the displays were outstanding.


As always, we hope for more visitor numbers but exhibitors pretty much unanimously reported a satisfactory return from the day and were universal in praise of the new venue.


The black ceiling and black-curtained walls of the building, the polished concrete floor and the fact that all stands came complete with black panelling, lifted the event to a new level of professionalism.


It was also pleasing to see a relatively large number of garden retailers from out of Auckland in attendance.


There was a strong social element to the event as well. Several exhibitors stayed back to chat and enjoy a complimentary glass of wine at the end of set-up day and some 40 came to the nearby Toby Jug tavern for drinks and dinner in the evening. Tables were seized from everywhere and put together so there was one big group with plenty of noise and laughter.


Date set for next Auckland Trade Day: 14 August 2013
Auckland Spring Trade Day this year will be on Wednesday 14 August, again at Life Convention Centre.

Check out the plan on this website to choose your stand then just give us a call to confirm its availability.

All enquiries to (09) 358-2749

Reach your market through Comm Hort
Regular advertising in Commercial Horticulture Magazine will maintain your profile and take your message deep into the NZ garden industry – nurseries, retailers, the landscape and amenity sectors.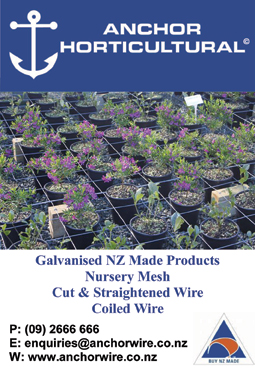 Here's what Shaun Russell of Anchor Wire Ltd says about this 1/4page ad he is currently running in Comm Hort: "A successful advertisement for our company. The response has been great from the nursery industry, with new inquiries and ongoing sales every publication . . ."
(The advert shows steel mesh for spacing plants and preventing them from blowing over)

Limited budget? Why not try just a Classified Ad in the magazine's Marketplace section – prices start from as low as $20 and as an added bonus your ad will also appear under the Marketplace section of this website.
Deadline for Ad bookings for next issue (June-July 2013) is May 25.

We can help you with creating your ads. Please phone (09) 358-2749 for assistance.


NZ Nursery Register 2012/13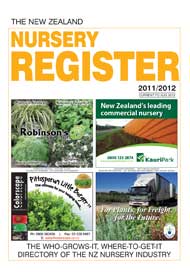 The new 2012/13 edition of the NZ Nursery Register was published in November 12. The Register has become the Bible of the nursery industry. It carries a mass of detailed information about all companies and people in or associated with the garden industry in NZ. The listings are published free, which is why it is so comprehensive. Price is $75.90 incl GST and delivery within NZ.
You can order the NZ Register on this site (click here for options) or please phone 09 358 2749.
The Register is a fantastic place to advertise to reach the NZ garden industry. Many buyers make their copies last two or more years and the Register's penetration is as high as 86% into some sectors.

Australian Nursery Registers

Four regional Nursery Registers are available for Australia. Latest editions are:
NSW/ACT, August 2012, 170 pages, 3500+ companies
VIC/TAS/SA, September 2010, 180 pages, 4500+ companies
QLD, November 2011, 102 pages, 2500 companies.
WA, September 2012, 62 pages, 1200 companies.
These Registers carry extensive detail about nurseries (what they grow, grades etc), garden retailers, supply and service companies. There are phones, faxes, emails and contact names – a great resource if you're dealing in any way with the garden trade in Australia.
You can order the Australian Registers on this site or please phone (09) 358 2749.
New editions of all Registers will be published in 2013
Advertising space is available – so if you're targeting the trade in Australia the Registers are a great place to advertise because your message reaches people at the very moment they're making a purchasing decision, or constantly as they fan through the book looking for a contact name or phone numbers.
The NSW/ACT edition was published in August 12 and the WA edition in September. The Vic-SA-Tas edition is scheduled for May 2013 and Qld in June.
Phone us at (09) 358-2749 for more details.

Comm Hort now available as an e-magazine
Commercial Horticulture Magazine is now available in electronic format as an e-magazine. Click here to see a sample.
Price is just $35+GST for an annual subscription (6 issues). Subscribers can print colour copies of all or parts of the magazine if they wish.
Overseas: We can deliver Comm Hort e-magazine anywhere in the world for just NZ $35 per year (6 issues) – a good gift idea for friend or colleagues overseas perhaps?
To subscribe, please click here. If you would like to pay for the subscription but have the magazine sent to someone else, just enter your details in the Billing Address and the recipient's details in the Shipping Address as you move through the checkout.