Nursery World is website of The Reference Publishing Co Ltd, Auckland, New Zealand.
Commercial Horticulture Magazine: New Zealand's Nursery Industry Magazine
Nursery Registers: directories of the nursery and related industries of New Zealand and Australia
Organisers of Trade Days - nursery industry trade shows in Auckland and Christchurch
Manufacturers and distributors of the Signs Please range of POS sign holders for retailers
NZ distributors of the Hollow Log range of garden ornaments and collectables.
Member of NGINZ

---
Health & Safety Act –
A Starter Pack to get you going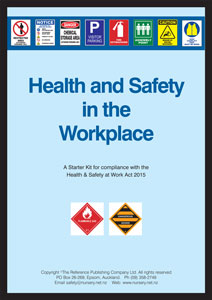 With the new Health & Safety in the Workplace Act coming into force on 4 April this year, many companies will be looking to upgrade their health & safety workplace practices and policies.

The Act has a high requirement for documentation of workplace hazards and what is being done to eliminate or minimise them, along with records of staff safety meetings and decisions etc.

There is also a requirement for companies to have in place emergency procedures and policies, again all of which have to be documented.

Reference Publishing has developed a Starter Pack to help companies get up to speed on most of these matters. It comprises a set of forms and charts which provide a framework on which a general health and safety policy can be built. It also provides background information and a suggested schedule which can be followed to get the most important things in place in a step by step manner.

This website now also offers a quality range of Safety Signs on 2mm thick PVC sheet. Self adhesive labels are also available. Purchasers of the Starter Pack receive a discount code giving them a 20% discount off sign orders for a limited period.

For more detail or to order, please Click Here
---
Reach your market through Comm Hort
Regular advertising in Commercial Horticulture Magazine will maintain your profile and take your message deep into the NZ garden industry – nurseries, retailers, the landscape and amenity sectors.
. . . in the print edition
Our next edition is for distribution 20 April. Let us know your advertising requirements by end of March please.
Limited budget? Why not try just a Classified Ad in the magazine's Marketplace section – prices start from as low as $20 and as an added bonus your ad will also immediately appear under the Marketplace section of this website.
We can help you with creating your ads. Please phone (09) 358-2749 for assistance.

. . . an on-line at this website

Click on the "Book a Classified Ad" button at the top of this screen to get your advertising messages and promotions immediately out to the nursery and related industries.

The calculator will show you the cost of your ad after you key in the wording and specify the dates it is to run.

If the ad has news value, we'll include a link to it in the regular newsletters we send out to the entire industry so you can be sure your ads will reach total coverage.

NZ Nursery Register

The completely updated 2015-16 current edition of the NZ Nursery Register is out now.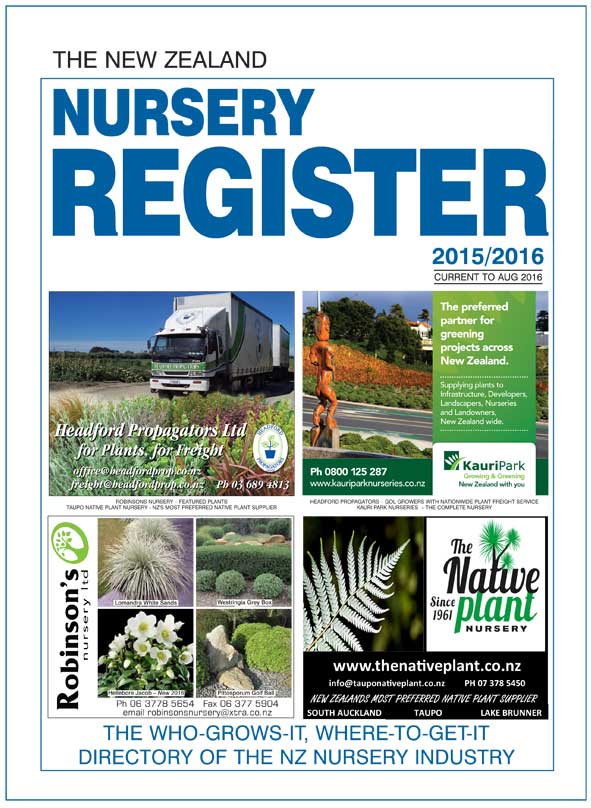 The Nursery Register has become the Bible of the nursery industry. It carries a mass of detailed information about all companies and people in or associated with the garden industry in NZ. The listings are published free, which is why it is so comprehensive. Price is $66 plus GST and delivery within NZ.
You can order the NZ Register on this site (click here for options) or please phone 09 358 2749.
The Register is a fantastic place to advertise to reach the NZ garden industry. Many buyers make their copies last two or more years and the Register's penetration is as high as 86% into some sectors.

Australian Nursery Registers
Four regional Nursery Registers are available for Australia. Latest editions are:
NSW/ACT, July 2014, 148 pages, 2600+ companies
VIC/TAS/SA, August 2013, 156 pages, 3000+ companies
QLD, June 2015, 102 pages, 2000+ companies.
WA, August 2012, 58 pages, 1200 companies.
These Registers carry extensive detail about nurseries (what they grow, grades etc), garden retailers, supply and service companies. There are phones, faxes, emails and contact names – a great resource if you're dealing in any way with the garden trade in Australia.
You can order the Australian Registers on this site or please phone 09 358 2749.
Advertising space is available – so if you're targeting the trade in Australia the Registers are a great place to advertise because your message reaches people at the very moment they're making a purchasing decision, or constantly as they fan through the book looking for a contact name or phone numbers.
Phone us at 09 358-2749 for more details.

Comm Hort now available as an e-magazine
Commercial Horticulture Magazine is now available in electronic format as an e-magazine. Click here to see a sample.
Price is just $35+GST for an annual subscription (6 issues). Subscribers can print colour copies of all or parts of the magazine if they wish.
Overseas: We can deliver Comm Hort e-magazine anywhere in the world for just NZ $35 per year (6 issues) – a good gift idea for friend or colleagues overseas perhaps?
To subscribe, please click here. If you would like to pay for the subscription but have the magazine sent to someone else, just enter your details in the Billing Address and the recipient's details in the Shipping Address as you move through the checkout.


Trade Lists On-Line
Trade Lists On-Line (TLO) -- see button at top of this screen, is an on-line database of plants designed to be an extension to the NZ Nursery Register and to be used in conjunction with that publication. The Register indexes plants by genera, TLO goes down to varietal level.
Reference Publishing has combined several of its databases, including two which underpin the Nursery Register, to create the new resource, which contains almost 50,000 plant entries. Many of the plants have descriptions of their form, habit, uses, features, attributes, colours, requirements etc, as supplied by the nurseries which grow them.
The database is available, by password access, to all buyers of the current edition of the Nursery Register, or by direct subscription. Searchers can find plants by name or attributes.
Advertising options are available, including picture ads that pop-up alongside specific plants or products. Companies can also have a linked 'feature page' with words and pictures about themselves and their products. Whenever their name comes up in a search, this feature page can be opened by the viewer. It can have links to the company's own website, to specific pages on supplier websites for which the company might be an agent, or to on-line promotion or instruction videos.
Companies can have their trade or availability lists attached to their company name as pdfs and regularly updated.
Reference Publishing can also turn existing printed plant or product catalogues into electronic flip-books that can be posted on the TLO site and made available to searchers. There will be a facility where companies can post specials, ends of lines etc.
For more information phone Reference Publishing (09) 358-2749.