Christchurch Autumn Nursery Industry Trade Day

2018
Trade Day brings you the latest and best of plants, products and services from the NZ nursery industry.
Lincoln Event Centre, 15 Meijer Drive, Lincoln. (20 mins from Christchurch).


Admission free to everyone in or associated with the nursery or garden industry. Not open to the general public.


Exhibitors - nurseries, horticultural supply and service companies.


Call Reference Publishing (09) 358-2749.

Allwood Trees Limited 22, 23
366 Halswell Junction Road, Halswell, Christchurch Ph 03 349 9240 info@allwood.co.nz
A specialist tree & shrub nursery with up to 15,000 trees & shrubs available to the landscape industry. Also a retail facility. Trees grown to Canterbury's windy conditions & hardened to grow well. A great range at trade prices, advice on tree selection for particular sites. Landscapers are welcome to bring clients to Allwood Trees. Delivery anywhere in Canterbury, SI & NI can be arranged. All trees meet appropriate horticultural standards. Please contact Mark & team about your requirements.
Bernie's Barrow 38
PO Box 30894, Lower Hutt Ph 04 566-2361 bernie@metaltechnics.co.nz
Bernie's Barrow is the extra-large wheelbarrow. New Zealand made from aluminium and treated ply, with two 62cm diameter flat free tyres, light, strong and easy to push. Four times the capacity of a standard wheelbarrow. Comes with a large flat floor and removable ends so you can get more done in less time, with less effort no matter what your task. www.berniesbarrow.co.nz

Blueskin Nurseries Wholesale 5, 6
PO Box 63, Waitati Ph 03 482 2011 nursery@blueskinnurseries.co.nz
A selection of hardy exotic and native trees and shrubs ranging from 1.5L to 35L. See our range of Astelias - 7 varieties - as well as other perennials.

Burnet's Horticulture Ltd 36
PO Box 11186, Sockburn, Christchurch Ph 03 349 7295 prebchch@prebbleseeds.co.nz
Visit the Burnet's stand to view our new indoor garden products including an orchid feed and mist bottle. Also view our affordable lawn care product range.

Butler's Nursery 32
15 Kaituna-Tuamarina Road, RD 3, Blenheim, Ph 03 570 2042
Come and look at the range of liners we have and to see how we can help you for the coming year.

Clark's Nursery 13
6 Bowenvale Avenue, Cashmere, Christchurch Ph 03 332 9583 clarksnursery@xtra.co.nz
On our stand we will have some of our houseplant range including foliage plants, along with some of our standard plants and some outdoor lines including Std Bays
Daltons 19, 20
266 Hinuera Rd West, Matamata, 0800 808150, 180 Maces Rd, Christchurch, Ph 03 389-0831, sales@daltons.co.nz
Come meet Greg Tulett manager of Daltons South along with Kerryn and Robert. View our Summer Solutions products, along with our exciting new ranges of Woven Bags, Waikaitu Bio Seaweeds, Swagman, Racking Solutions and much much more. Bring your business cards and get in for one of the giveaways that will be drawn on the day!!

Egmont Commercial Ltd 1, 7
PO Box 37326, Halswell, Christchurch Ph 03 349 5546 sales@egmontnz.com
Egmont Commercial provides a full range of supplies for the horticulture industry.
Elliotts Wholesale Nursery 37
5 Grays Rd, RD 1, Amberley Ph 03 314 9049 wwwelliotts.co.nz
Elliotts specialise in ornamental plants for the retail nursery and landscaping sector.
Come and see our Princess Magnolias, "Tastee As" fruit range and Supa Red Photinias, all new and exciting products being showcased at this year's Trade Day


Fern Factor Ltd 35
394 Newtons Road, RD 5, Christchurch Ph 03 344 0297 ferns@fernfactor.co.nz
Great collection of lush and NZ native ferns sprinkled with some exotics. Come and see our selection and discuss your fern requirements with us. Factor some ferns into your planting!
Forest Quip 14
8 Branthwaite Drive, RD8 Christchurch Ph 0508 622 446 info@forestquip.co.nz
Forest Quip are the NZ dealers for Giant Loaders. Giant has a wide range of options ideal for the horticultural industry due to their light, compact design. We are also suppliers of high quality, European forestry equipment. 10 years in the industry means we can help work out a solution that best suits your needs. Come down and see us at the Trade Day. www.forestquip.co.nz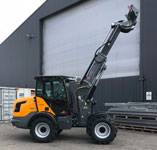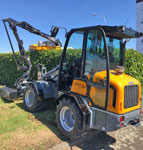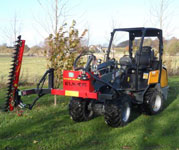 Glenbrook Machinery Ltd Outdoor Stand
PO Box 499, Pukekohe Ph 09 238 6955 sales@glenbrook.co.nz
Avant and Schaeffer loaders plus a range of attachments for the Nursery Industry. Free one-day trial at your nursery - anywhere in New Zealand 0800 453 627

Headford Propagators Ltd 10, 11, 12
24 Horsnells Road, RD 10, Waimate Ph 03 689 4813 office@headfordprop.co.nz
Plants: Contact us for growing on lines, re-vegetation, natives and affordable landscape lines. sales@headfordprop.co.nz.
Plant Trolleys - Engineering for your nursery trolleys and metal fabrication.
Freight: We can freight your plants and products nationwide. freight@headfordprop.co.nz. Contact 03 689 4813

ICL 21
PO Box 125, Whitford Ph 0274 908 438 nicola.rochester@icl-group.com
I want to share the inspiration I felt on my return from IPM Essen - the largest horticultural exhibition in the world! Come and say Hi and I will share with you the pics that blew my mind. Come and talk to me about the world first new Controlled Release Calcium product we have finally got to market after around 10 years of R&D.
Intelligro Landscape Centre 28
261 Manion Rd, RD7, Weedons, Christchurch Ph 03 347 9415 www.igro.co.nz
Intelligro is a leading manufacturer and supplier of top quality landscape and garden products. Established in 1948, we have extensive experience and industry knowledge. We specialise in creating premium growing mixes for a variety of plants, flowers, trees, shrubs and vegetables. With an on-site mixer, high-tech machinery, a laboratory and a rigorous quality control system, we are able to produce and monitor all of our products from start to finish to ensure that we are selling only the best to our customers. Growing mixes aren't all we do, we have an extensive range of barks and mulches, soils, compost, stones, chips, fertilisers and tools. Open 7 days a week, we welcome both residential and commercial customers. No project is too small or too big, so come and see us for a chat about how we can help you with your landscape and gardening tasks.

Interworld Plastics Limited 4
PO Box 72468, Papakura Ph 09 295 0510 sales@interworld.co.nz
Along with supplying locally manufactured quality growing pots to the horticulture industry for 40 years, Interworld now has a full range of imported, modern and innovative decorative products at Special Pricing exclusively for the Show.

Kotare Liners 34
148 Hewetson Road, RD 2, Upper Moutere Ph 021 244 8154
From sunny Nelson, formerly Plants Unlimited. Specialist growers of Proteacae, Azalea evergreen and deciduous. Rhododendron plus many other lines. We will contract grow those special lines for you. Alyson & Grant James.


Orion Labelling Solutions Ltd 8
PO Box 11083, Whangarei Mail Centre, Whangarei Ph 09 437 2423 jill@orionlabels.co.nz
We will be showing our range of nursery tags. These are made from recyclable plastic and feature double-sided photographic-quality colour printing and are coated for added UV protection. Talk to us about having personalised tags designed for your nursery with no charge for design.

Plantorama 2014 Ltd 9
PO Box 4018, Highfield, Timaru Ph 03 688 2248 plantorama@xtra.co.nz
We grow a wide range of Conifers, Ornamental Trees and Shrubs, Natives, Ericas, Deciduous and Evergreen Shrubs. Good hardy plants ready to be planted. Looking forward to seeing old and new customers at Trade Day.
Southern Woods Nursery 24
1002 Robinsons Rd, Templeton, Christchurch Ph 03 347-9221 info@southernwoods.co.nz
Southern Woods will be displaying a range of locally grown plants, including native revegetation, landscaping & amenity species, smaller grade specimen trees and more. Our new 2018 catalogue will be available, with a number of helpful staff members on-site for your questions & projects.
With a dedicated garden centre, plant sourcing service and extensive nursery redevelopments underway, Southern Woods are your Christchurch based plant supply specialists.
Statement Trees 41, 42
471 Alma-Maheno Road, RD 19D, Oamaru Ph 03 434 6149 statementtrees@gmail.com
Statement Trees will be travelling from Oamaru to exhibit for the 3rd time at the Trade Show. This time with a double stand we are bringing even larger trees & new products to show. We stock larger grade trees of many varieties & specialise in cloud pruning & other quirky styles & designs. We also carry lines of 1Lt natives for bulk planting. We would love to meet you while you are there & show you some of our range as we may have that special something you have been looking for.

Straightcurve 48,49

20 Peterkin St, Taita, Lower Hutt Ph 027 282-4453 www.gardenedging.co.nz

Metal garden edging -- we are NZ's garden edging specialists when it comes to weathering steel and galvanised steel. We offer a range of heights from 75mm to 560mm for pathway edging or features. Our products are designed for in-ground and above-ground installation.


Sunshine Environmentals 47

75 Pinfold Road, R.D.1 Palmerston North Ph 06 3574043 sales@sunshineenvironmentals.co.nz
Sunshine Environmentals are specialist growers of trees and shrubs. Check out a few of our wide range of Climbers, Roses, Hydrangeas, and other specialty lines. Highlighted will be New Zealand's Spray Free Landscape Roses, the Simplicity Rose range. Make sure you stop by and collect a free pair of quality sunglasses. We have great stock that's prime for Autumn planting and Easter displays.
FREE GIVEAWAYS WITH EVERY ORDER PLACED ON THE DAY!

Supersphag Ltd 18
81 Granville Rd, Totara Flat Ph 027 732-3610 btruman@xtra.co.nz
We will have a range of sphagnum moss petal products on display. These will include our Superplanters, as sold to our international customers. The moss compressed into a sheet and cut to suit cell size. Sheets are presented as a sheet of stamps. Speeds up the potting process and are measured dose to suit customer requirements. We have some other ways we can present the moss and some finer grade petal we are looking to market as well.

The Gorge Nursery Ltd 43, 44
479 Ashley Gorge Road, RD 1, Oxford, Ph 03 312 4176 info@thegorgenursery.co.nz
What Makes Us Different? Canterbury is a very tough province to establish trees in. Dry conditions & wind creates a huge challenge for young trees. At The Gorge Nursery our aim is to produce trees that will survive these harsh conditions. Our philosophy - to use proven best nursery practice to produce high quality trees at a reasonable price, hardy to Canterbury conditions. The way we grow trees: sourcing GOL's root pruning, bagging up, quality mix, form pruning and tree selection

Thirkettle Nurseries 31
30 Paton Road, RD 1, Richmond Ph 03 544 1815 sales@thirkettlenurseries.co.nz
We'll have some great examples of our current stock on the stand, plus some very new arrivals. Come and see Mark and Tonee to discuss your requirements for 2018 and 2019, and also get some great Trade Day Specials.

Tunnelhouse Tech 39
2498 Main West Coast Rd, Kirwee Ph 021 392 934 www.tunnelhouse.co.nz
We provide and support a wide variety of greenhouses to the commercial greenhouse industry and home gardeners. We offer installation, improvement, and renovation. We support other structures such as swimming pool covers, animal shelters, and storage. Talk to Darren King at Trade Day

Wetta Industries 25
PO Box 33, Rangiora Ph 03 313-7956 sales@wetta.co.nz
Wetta Industries' heritage of providing great products and service to the garden watering industry spans back 30 years. Based in Rangiora, we're passionate about designing and supplying the best irrigated solutions for home or commercial projects- from hoses to hose fittings, sprinklers and micro irrigation products. Wetta is a division of Waters and Farr Ltd, a wholly owned subsidiary of the Hynds Group.
.